Girls varsity basketball defeats tough opponent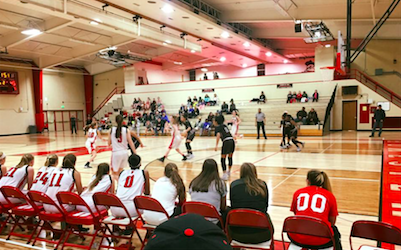 Hang on for a minute...we're trying to find some more stories you might like.
The girls varsity basketball defeated Milwaukee School of Languages on Saturday, Feb. 11 with a score of 49-47. The game determined the team's seed for the playoffs.
"With the seeding meeting for the playoffs being today, Saturday, Feb. 12, we knew we had to win last night so we left it all on the court and came out with the W. It's a great feeling when you win, but it will be a better feeling when we get a higher seed," Chloe Marotta, junior, said.
The girls knew that winning this game would help them get a better seed, so they put in their all and fought until the end. Overall, they came out successful in a very close game with a nail-biting finish.
"Our coach told us we needed to win early before the game to help our seed for playoffs. After we won, I felt really good knowing we had accomplished what our coach had asked us to do," Grace Crowley, sophomore said.
By the end of the game, the girls won by two points that were scored as free throws from Crowley. The team was extremely happy proud of their accomplishment.
"The game was a really hard fought game. Having four games in one week put us to the test. We buckled down and got the job done," Emily Polk, senior said.