Individual state a success for girls tennis
The Nielsen Tennis Stadium in Madison has brightly lit, open courts that provide a stark contrast from those that are comfortable and tree-lined. The viewing is from above, and looking down on the tennis below is far different than setting up camp chairs on the deck at Homestead. Nielsen feels, in many ways, as if it were designed to hold the pressure-filled completeness of the sport, the nerves and ego that make victories here so exciting and defeat so disappointing. Matches at this year's Girls Tennis Individual State Tournament were tests of endurance and skill, wins and losses preparing the team for next weekend's team state.
The six Homestead players who qualified for Individual State were singles players Natalie Yang and Jamie Gebhardt, seniors, and doubles players Kate Wade, junior, Sasha Shapsis, senior, Ellie Sprinkmann, sophomore, and Bridget Brown, senior. Yang received a two seed, Wade and Shapsis received a three seed, and Sprinkmann and Brown received a seven seed.
"Bridget and I were really happy with our seed. Getting a good seed in the tournament really makes a difference with who you play, and ours also gave us a bye. With other teams playing up to three matches a day, having all of Thursday to prepare was really nice," Sprinkmann said,
Gebhardt lost in the first round of play to Lilia Teske from Wausau West. Brown and Sprinkmann won their first match but lost the second to Cecile and Samantha Fuchs from Deforest. Wade and Shapsis won their first three matches but lost to the Fuchs in the semifinals. The losses from the doubles were to the partnership that won state overall for Deforest. Yang also lost in the semifinals, having won her past three matches in three hours or more.
"I was really happy to pull of those first matches, but I was physically and mentally exhausted. I knew it would only get tougher no matter what, and I had to stay focused for the matches ahead," Yang said.
In the back-draw, Brown and Sprinkmann won their two matches to receive fifth place overall. Yang defeated Nora Balthazor from De Pere in two tiebreaker sets to receive third place. Wade and Shapsis received third place after a default victory over Muskego's Lauren Sobieski and Maddie Toboyek.
"Of course it felt nice not to have to play another match, but I was also upset because I wanted to play the Muskego team. It would have been good preparation for next week because we would potentially be playing them if we get to the finals," Shapsis said.
Despite losses for all qualifying players, the team is overall very happy with their performance at the tournament. Brown finds attending individual state as a player or non-player very important to preparing for team state a week later.
"Even as a senior, the raucous crowds and intense atmosphere at Nielsen takes some getting used to. Since tennis is such a mental sport, going to the stadium and living in that energy is essential to taking on the competition when the stakes are high at team state," Brown said.
About the Contributor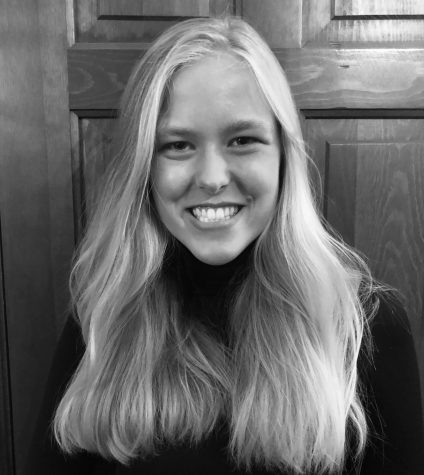 Annie Brown, Editor-in-Chief
Annie Brown is a junior at Homestead High School. She is passionate about education, maternal health, and cancer research, which is why she serves as president...