Freshman Friday: Gabi Hartwig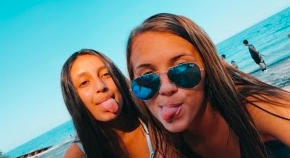 Every Friday, Highlander Publications chooses a freshman to be featured in "Freshman Friday," giving the student population the opportunity to get to know its freshman class. Read below to learn about this week's freshman.
What was your favorite part of freshman year?
I really liked that I had the opportunity to make new friends, try out different classes and join new sports/clubs.
What is your favorite TV show?
Gossip Girl
Are you a part of any Homestead sports teams?
I played volleyball and I was planning on joining soccer.
Do you have any siblings?
I have a younger sister, Olivia
What has your favorite class at Homestead been so far?
Honors Biology
What's your favorite restaurant or fast food place?
I love Elsa's in downtown Milwaukee
What's the best place you have traveled too?
Hawaii
How would you describe Homestead?
Full of opportunities
What's your favorite color?
White