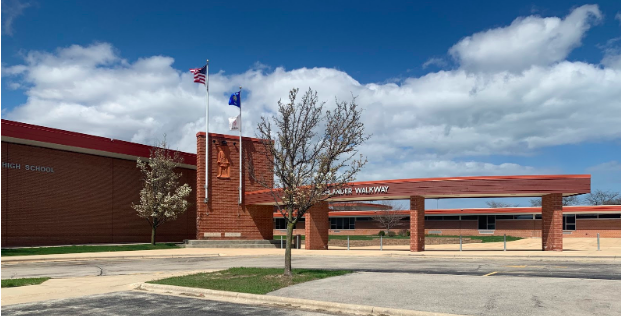 Maeve James
Students, parents, faculty and staff were notified on Sunday Sept. 12 that a student had tested positive for COVID-19. The Mequon-Thiensville School District (MTSD), working with the Washington Ozaukee Public Health Department, began contact tracing for students who had been a close contact of the positive case.
A close contact is defined as anyone who had been closer than six feet of the person for more than 15 minutes OR had been within six feet on multiple encounters adding up to 15 minutes. Students deemed close contacts were emailed not to return to school on Monday the 14 and called by the Washington Ozaukee Public Health Department who told them to quarantine for 14 days and get tested if they started showing symptoms.
Alexandra Grosso, junior, was considered a close contact to the first case of COVID-19 at Homestead and was contacted via email. "[In the email] I was told to start reaching out to teachers and make sure I had all of my links for Zoom classes. I wasn't told to get tested, but I was told to quarantine for 14 days. My mom received a call from the health department ordering me to stay home for the 14 day period and to get tested if I started to feel sick," Grosso said.
According to the MTSD Operating Plan 2020-2021, if a student tests positive for COVID-19 he or she must be quarantined for 10 days and can only return to school if they are symptom free. However, a student who is a close contact must quarantine for 14 days in order to ensure they do not show symptoms or become sick. Close contacts are not required to get tested right away, only if they begin to show symptoms. Family members of close contacts are not required to quarantine.
If a student has a family member who tests positive for COVID-19, the student must quarantine for 24 days. This 24-day period covers the 10-day quarantine period of the family member and the 14 days that the student could show symptoms.
For teachers, similar quarantine rules apply. When a student tests positive in a teacher's classroom, the teacher must follow certain protocol.
"I was contacted by the district office Saturday evening via email and given the name of the student who tested positive. I was asked to produce a seating chart and to discuss the time we spent outside on a break together, specifically, any students who may have come in contact with the student when we were outside, six feet apart, with masks off. I was also asked about the extent of my engagement with the student. I would have to have spent 15 minutes in close contact with the student to be considered at risk of infection. Based on my recollection of my contact with the student, I was deemed not to be at risk," Mr. Eric Bauer, English teacher, said.
If a teacher is not deemed a close contact, he or she will continue to teach in person with the rest of the class who are also not close contacts. However, if a teacher is a close contact or tests positive, he or she must follow the same guidelines as students. Teachers are given the option to teach virtually from home
Some parents have inquired about switching from in-person to virtual learning. According to Sarah Zelazoski, executive director of human capital, the administrative team is meeting tomorrow, Sept. 16, to discuss possibilities for those who want to change. "We are working to create a wait list [for those who want to switch]. We want to keep class sizes consistent. When families made their decision, we worked to keep class sizes as normal as possible. We want to offer a high quality learning experience for students who are virtual and on campus," Zelazoski said.
The district will be contacting families in next day or two, indicating that MTSD will provide the opportunity to request on-campus and distance learning changes in October. According to Zelazoski, the district will do its best to accommodate requests for the second trimester but can't guarantee the ability to make changes due to current staffing, class sizes and physical distancing in classrooms.
Homestead is currently operating in Scenario C, which happens when, "activity level is medium and positive test rate is medium for two consecutive weeks in MTSD ZIP codes." The infection rate had to stay below 6% for scenario C to be implemented. In scenario C, students have the option to learn virtually or on campus with maximum physical distancing and minimal physical contacts.
If the infection rate rises above 6% or more than 20% of Homestead faculty is absent from school, Scenario D is implemented, using a completely virtual scenario for all students.