Theatre department navigates covid-era showbiz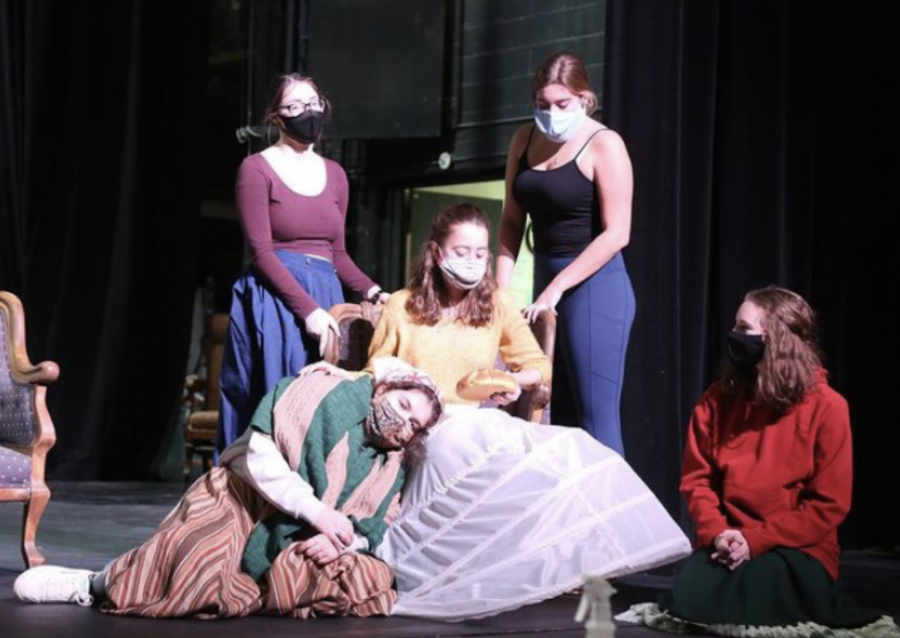 Down the ramp to the 700 wing lies a very different theatre department that has ever resided within the Black Box before. A department riddled with smaller casts, shortened rehearsal times, and oh so many rules.
Chloe Diamond, junior and lead of Homestead's upcoming production of Little Women, remembers that she had some doubts about the school's ability to put on a winter show at all "I was thinking 'How is Figg going to do this? How are we gonna put on a musical?" she said. However, Amelia Figg-Franzoi, Homestead's theatre director for the past decade, made it clear that her intentions were solid when she said "My goal is to get through the year and to figure out how to create my classes safely in this covid environment." This has proven to be a stiff challenge with all of the necessary steps that have to be taken during this new reality.
In order to put on a show that goes along with the safety standards that Mequon Thiensville School District has set, the actors and crew members have to be extra careful. "Everybody is wearing masks the whole time, we sanitize everything, there are only 10 actors allowed at rehearsal—our musical only has 10 actors," Figg-Franzoi said. She went on to say, "there's not the normal hugging and tactile things that theatre kids always do." All of this is to be expected due to the strict six-feet apart guidelines that have taken over every aspect of people's lives during this time, but it is still a huge departure from normalcy.
Luckily, the department has already garnered some experience in putting on shows during this time—and been awarded for doing so. After competing in the One Act WHSFA state competition the theatre department's play "The Edge of Reflection" received 6 awards including ones for ensemble acting, directing, and crew. While preparing for the show the one act class decided to take a risk "After lots of debating, researching, and sword fighting with pool noodles, the majority of the class voted to devise our own play," Kaet Sisney, senior and veteran actor, said.
Emma Spitz, junior and recipient of the aforementioned crew award, believes that putting together the original play allowed them to grow."I think we learned from one act that communication is the key to making all the aspects of the theater work when we are in an alternate environment," Spitz said.
Right now all hands are on deck in preparation for the recording of Little Women's opening night on Feb 4. "I couldn't have asked for a better show to do during Covid because it's such a great story and it makes you feel so much better when you're going through a tough time like we all are right now," Diamond said.
Lizzie Wilkerson, senior and the assistant director of the musical, has altered her tips to adhere to the new restrictions. She said that she tries to "watch out for those Midwestern pronunciations that are confusing on the stage and also offer advice on how they can use bigger movements to help the audience better understand them in spite of the face coverings." The show will be accessible to everybody in late February via vimeo.
Despite all of their setbacks, it is obvious that the department is committed to continuing to do what they do best—create art. As Sisney proudly said, "I'm confident that no matter what the next few weeks look like, our small but mighty group of builders, painters, designers, customers, actors, and teachers will create an amazing performance and have lots of fun doing so."