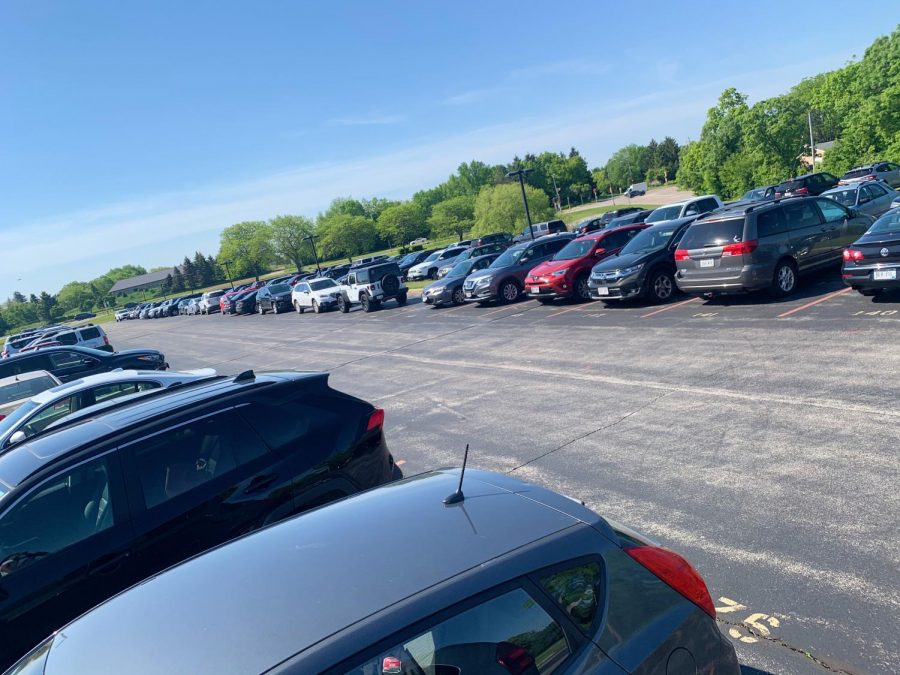 Blair Martin
As the end of the school year rolls around, Highlanders have participated in some of Homestead's most cherished traditions. Upperclassmen have dolled themselves up take Instagram pictures and dance for 15 minutes at Prom, athletes have begrudgingly made it through their spring sports seasons and drivers have shelled out hundreds of dollars to park their cars in rainbow-named lots to avoid being by hit inexperienced sophomores next year.
The 'parking lottery' is a longstanding system at Homestead.
"We opt for assigned passes for safety reasons," Linda Dean, the lead student office administrator, said. "Everybody gets to school during a very tight time frame and everybody trying to get into the blue lot or everybody trying to get into the yellow lot would lead to more people being tardy and more accidents."
Prior to 2015, students would have to wake themselves up bright and early to trail outside of the student office and turn in their lot choices. "The doors would open at about 6:45 in the morning, and when I would come in at 6:30 the line would be all the way down the hall with kids wanting to get the prized blue spots," Dean said.
This year Homestead's drivers simply filled out a Google form, crossed their fingers and hoped to be awarded with their chosen lot.
However, the stress of finding the perfect parking spot isn't the only thing facing students and their families—a Homestead parking pass costs $300 per vehicle, which is a financial burden to some.
Other schools in Ozaukee County have similar parking systems in place: you pick out your lot, sign on the dotted line, paste the sticker on the back of your mom's 2007 Honda Civic and are good to go. The only difference is that it costs less than $150 to park at schools like Grafton, Cedarburg, and Port Washington.
"The parking lottery is a lot more expensive than it should be, especially considering the fact that a lot of students here at Homestead have to pay for their own parking," Amanda Dulle, junior, said.
On the surface level, it may seem like these passes are just excuses for Homestead to use its student body's cars as cash cows. Roughly 450 cars park at Homestead every year, which means that parking passes generate approximately $135,00 of revenue annually for the school.
When asked about the expensive nature of the parking passes Sarah Viera, MTSD's executive director of business services, explained that "revenue generated from parking fees is recorded as revenue in the district's operating budget and is used to offset expenses needed to operate the district, including the costs associated with plowing and parking lot maintenance."
The average cost of teenage auto-insurance alone is approximately $2,267 per year, and when the ever-increasing price of gas is added to that number the bill that comes along with owning and maintaining a car ends up being a pricey one that some families may not be able to afford along with a parking pass.
"An alternative [to parking in one of Homestead's lots] would really just be just taking the bus, which is provided for all high school students free of charge," Principal Eric Ebert said.
As it turns out, what's perceived to be a right of passage here at Homestead is actually a luxury—Wisconsin Law does not require schools to allow students to park on their grounds. "Student parking is not considered a requirement for free public education," Viera said. "Arguably, student parking is a non-school purpose that does not interfere with school purposes or functions, as there is no right for a student to drive and park on school property, and free transportation is provided by the District. Therefore reasonable parking fees can be charged."
"It's an expense, there's no doubt about it," Ebert said. "Like everything else that we do at Homestead, when there is a financial burden we would want to be able to help. If an individual were to come into my office and wanted to talk to me about parking fees, I'd be hopeful that we could work something out."