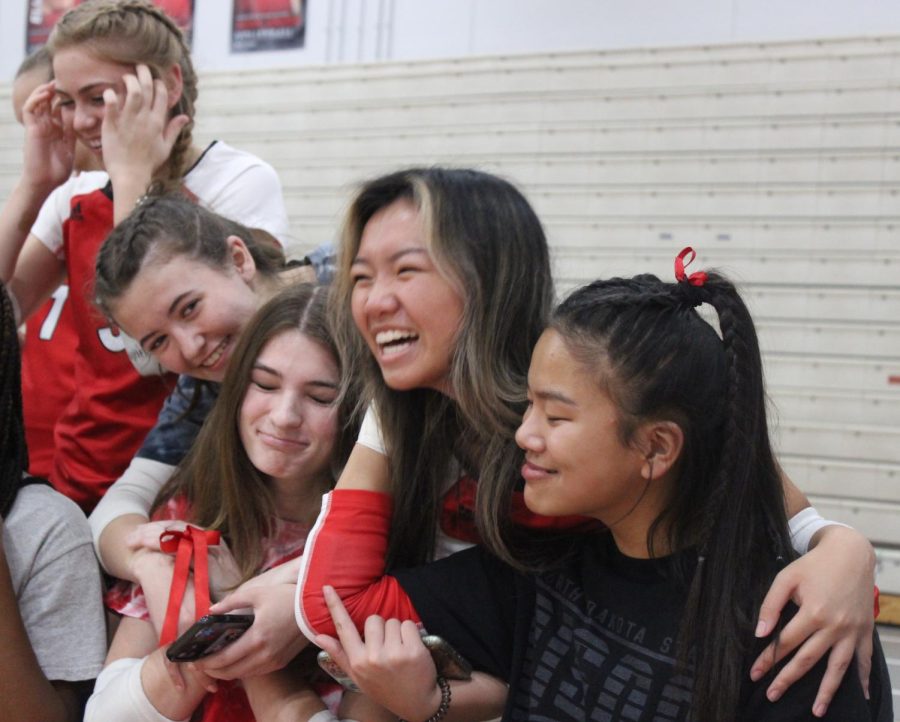 Blair Martin
At first glance, it is easy to dismiss the 2021 girls volleyball team. They bumped, set and spiked together for months, only to lose to every opposing team, ending in a 0-24 record as a result. However, through the time they shared, they gained something more monumental than any numbers that could have flashed across the scoreboard—a family.
"We had a very fresh team this year. Of our returning squad, seven out of the eight players were seniors, which called for moving a lot of younger girls onto the varsity team," Nora Raasch, senior, said.
The young team went back to the basics: strategy, pacing and overall gameplay.
"We were not nearly as experienced as some other teams this year," Coach Karen Anderson said. "We just didn't have the same depth of skill."
This lack of experience inspired the coaching staff to tailor their instruction to improve the volleyball IQ of the girls.
"Moving from the JV level to the varsity forced me to focus on keeping all of the pieces of the game together," Maria Pramenko, sophomore, said. "As the season went on I definitely learned more about the fundamentals of the sport."
The girls worked tirelessly on the court in an attempt to grow as a group of players. "The great thing about volleyball is that it's a team sport that pushes individual excellence," Sarah Matthews, senior, said. "Every person, whether they're on or off the court, holds immense value to the team's success."
The team's combined effort helped foster a sense of unity that supported them during challenging moments.
As the weeks wore on the girls remained winless, but the captains faced the reality of their season with a strong sense of optimism.
"I was never dissatisfied with our team's tenacious efforts as we fought until the very end," Raasch said. "We held each other accountable and remained positive."
The leadership exhibited by the seniors throughout the season inspired underclassmen.
"Those girls were the foundation of our team and I strive to be as amazing and supportive as them when I'm a senior," Chase LaLonde, sophomore, said.
"People are really willing to work hard when they're having fun, and I think the leaders of the team understood that this year, " Anderson said.
As a result, the team kept their spirits lively on the court with bonding events such as underclassmen fun day, team dinners, and locker room decorating sessions.
"The memories that I will hold on to forever from this team have no relation to volleyball," Matthews said. "This season obviously didn't go the way that we planned, but at the end of the day we're a family and it didn't matter if we won or lost, we were always having a fabulous time together."