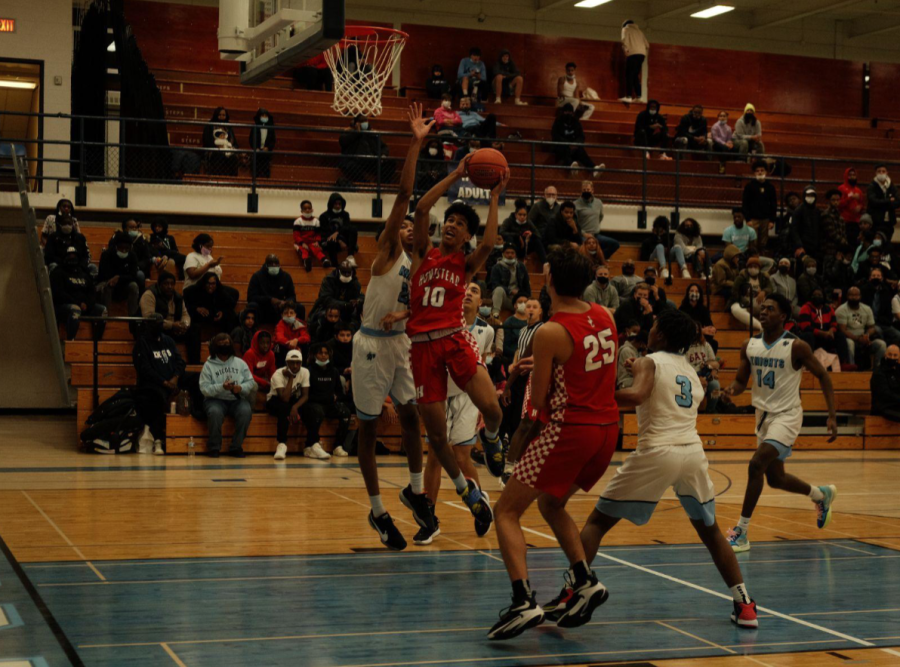 Misha Lieberman
The boys varsity basketball team is undefeated in all of their conference games played so far in the 2021 season.
"This is my most talented team I've had in my sixth year of coaching here from the first guy to the fifteenth guy on the team," Coach Sean Crider said.
The team has been preparing for their season together since late September during their open gyms and workouts.
Solomon Garrison, junior point guard, spoke about the importance of teamwork and friendship that he feels has a
pull on this team.
"On and off the court we are a brotherhood, meaning we always communicate with each other whether that's feelings or anything else," Garrison said.
This versatile team of 15 players consists of freshman, sophomores, juniors and seniors.
Trevor Polite, freshman guard, spoke about his experience, being new to the team this year as a freshman.
"The whole team welcomed me and took me in pretty good," Polite said.
Players feel that their team chemistry has contributed to their wins in all of their games.
Sam Lococo, senior point guard, said their friendships build up the team both when playing basketball as well as off of the court.
"On the court, we are all on the same page because we all want is to win and are willing to do anything to do so. Off the court is even better; we are constantly talking, hanging out and have all grown very close with each other regardless of the grade everyone is in," Lococo said.
The team has yet to know what their season holds; however, they have goals set that they hope to accomplish together as one.
"The goal is to win. We all want to win and we all love winning. But the main goal for this season is to win a conference championship because we have not done so in 20 years," Lococo said.
Coach Crider aspires to win as well; however, "you want your team to stay hungry," Crider said.