Cheer team works for a successful season with new coaches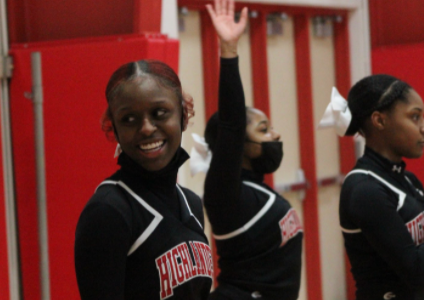 Two new coaches, Rae Cobbs and Cherisse Lock, took on the team for the 2021 – 2022 season with the mottos:
Full effort is honored more than perfection.
God, Goals, Growing, and Glowing.
The cheer team has bounced around with new coaches and captains throughout past years. In specific, Carli Bennett, junior, worked to form a cheer team after previous coaches quit.
Bennett said, "My biggest accomplishment was basically putting together a team in the fall when we didn't have a coach."
The team transitioned into the new season and adjustments to the new coaches were more difficult than expected.
Ciara Shutic, junior and team captain, talked about the beginning of the season.
"My coaches are new this year, so it took me a little bit to get used to the fact that they teach differently than my old coach, but I would say I'm close to them now," Shutic said.
The team focused on creating a connection both in practice and out. The new coaches emphasized communication.
Coach Cobbs said, "As the season progressed the girls, Coach Reese, and I did a lot of talking. Conversations during practice, after practice, Facetime calls, just communication altogether."
Over time, the girls created relationships with their coaches.
Semaj Harris, sophomore captain said, "My relationship with my coaches is great. I feel like I can communicate very well with both of them."
The team not only enjoyed the sport but each other as the new coaches pushed to set a good example for their team.
Coach Lock said, "As a coach, I led by example ensuring that we had a lot of laughs and light moments to blow off steam after a long work and school day. This helped us grow closer rather than apart because it felt less like a job or an assignment but just a good time!"
As the team drive increased, their grades noticeably changed.
Harris said, "When I didn't have any motivation behind school work specifically, cheer was my motivation."
The team worked to keep up their grades so that cheering was possible.
Harris said, "Cheer gave me a reason to want to make sure I was doing more than well when it comes down to school."
Cheer encouraged these girls to not only perform as athletes, but as students as well.
Harris credited how cheer has impacted her life.
She said, "There's never any negativity when it comes down to the cheer team. I love being able to have fun with everyone." Bennet agreed. "My favorite thing about cheering is being with the girls around me. Some of them I've known for my whole life just about. I just love how close we all are."
Along with cheer impacting their academics, it improved their bonds as well.
Harris said, "My favorite game to cheer at was definitely the Nicolet vs. Homestead game at Homestead. It was a huge comeback from the game we cheered at weeks before and we all felt great about the way we looked out there."
Shutic agreed. "My favorite has got to be the Nicolet game…the crowd was really amazing." Shutic added, "My favorite thing about cheering is probably doing the actual routine full out, it feels like all the long hard practice worked out and know that the team is all together."
Leave a Comment