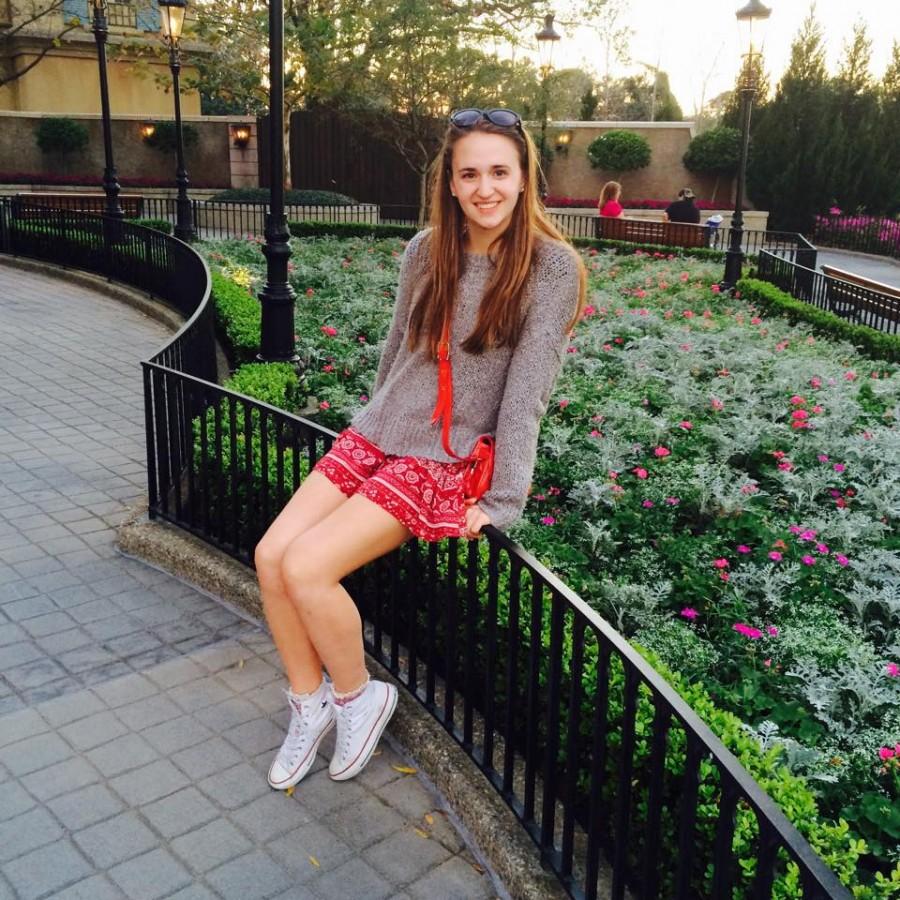 If you're anything like me, you see an outfit — a perfectly accessorized outfit, complete with the perfect jacket, a wonderful statement piece, a pop of color and amazing shoes– and you wonder where in the world did that exceptionally dressed person get those amazing articles of clothing. And instead of asking like a normal person, you, and I, hit the stores in search of that beautiful item and return home without any luck. And if you're anything like me you sit in front of your closet in the morning with a pile of no-gos agonizing over what the heck you should wear to school, wishing you had that really cool sweater that girl in your fourth hour class was wearing.
Let's be real, life would literally be a million times easier if we all  just knew where our classmates get their awesome clothes. So, I did what any fashion lover and blogging enthusiast would do — I started a blog about Homestead students and their amazing closets.
Madeline Slicker is the cutest girl ever. No questions asked. A pink enthusiast, Madeline's entire life is pink. She even responded to my interview questions in pink. So pinkalicious.
Pink heaven, a.k.a Madeline's bedroom, serves as the homeland of her adorably feminine closet. Ever since she could remember, Madeline "would cry if [she] couldn't wear a dress," she continued, "I've always been a dress and skirt kind of girl — I hardly ever wear jeans or pants." Madeline makes all you I'm-too-lazy-so-I'll-just-wear-sweats girls look like total losers while she prances around in cute little skirts all year round.
For "classy and sophisticated clothing," Madeline shops at J.Crew. She especially loves the "great sweaters (at J.Crew) with fun graphics on them." But when Madeline is looking for cute clothes without spending a lot of money, she shops at Forever 21 and H&M.
Madeline, like most of us, faces the universal struggle: dig-shopping at Forever 21 and H&M. She said, "you have to be ready to dig if you go into one of those stores. Sometimes I find a lot when I go; while other times, I walk out with nothing." Preach it girl.
Speaking my language, Madeline said that if she could buy anything, regardless of price, she would buy a black quilted Chanel bag. Legit life goals in a purse. She said, "I find the quilted pattern so timeless and would love to buy one at some point. Since the bag is black and simple, it would go with everything, and I love the fact that this pattern of bag never goes out of style."
Let's take a look inside her amazing closet: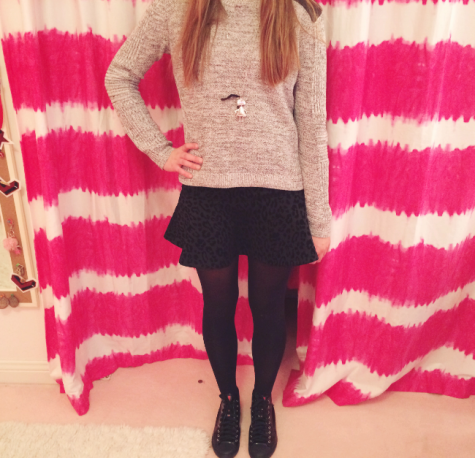 THE STYLE VALEDICTORIAN
"I love this outfit because it is simple but has little details like the quilted leather on the shoulders."
Get the look:
Sweater: H&M
Skirt: Forever 21
Shoes: Prada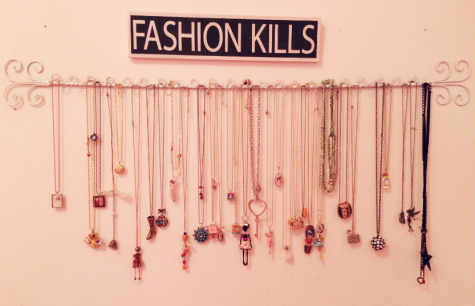 KILL EM' WITH ACCESSORIES
"I display my necklaces on an old picture holder. It is a great way to hang your necklaces because it turns them into to art. Also, it is a great way to see them all at once!"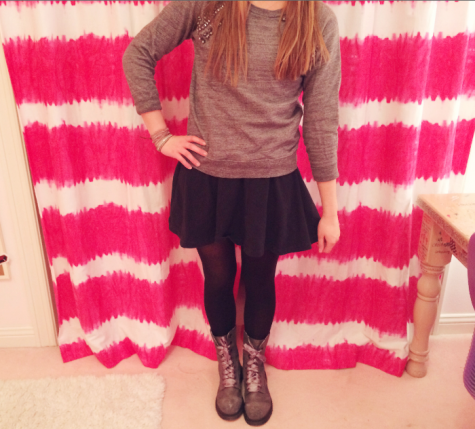 50 SHADES OF GREY (AND SPARKLES!)
"I love the neckline of this sweatshirt because of the studs and beaded neckline. The Docs are perfect with it because it ties in with the silver on the sweatshirt."
Get the look:
Top: J.Crew
Skirt: Forever 21
Shoes: Dr. Martens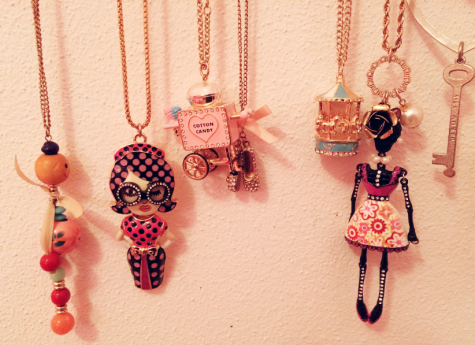 HEY LITTLE LADIES
"I get most of my girly little necklaces from Betsey Johnson and Forever 21."
Get the look:
Necklaces: Betsey Johnson, Forever 21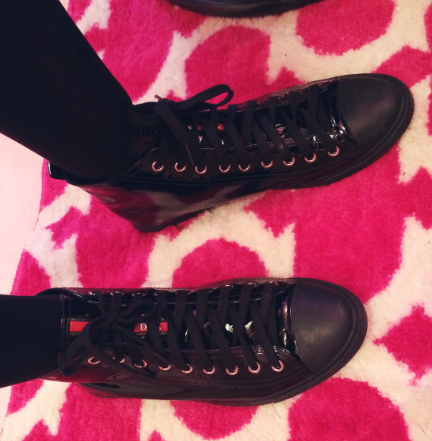 AIN'T WANT NADA UNLESS IT'S PRADA
"These shoes stand out because of the patent leather material they are made out of; they are different than any other pair of high tops!"
Get the look:
Shoes: Prada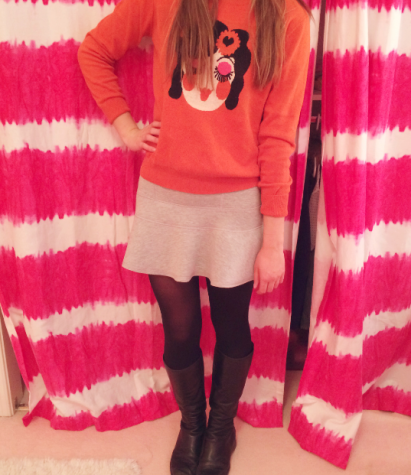 CUTE AS A BUTTON
"This sweater is great because it is so unique and different. It really speaks for itself. It is great to have a statement piece in your wardrobe!"
Get the look:
Sweater:Kling (sold at Fayes in Mequon)
Skirt: J.Crew
Boots: Prada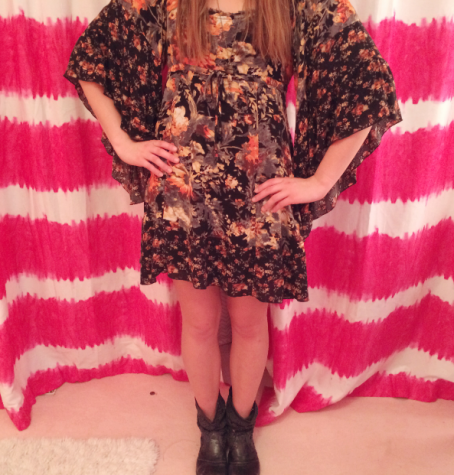 THE LIFE OF THE PARTY
"The dress is so fun to wear because of it's flawy arms. I love how there are so many colors; it makes it easy to pair with many types of accessories. "
Get the look:
Dress: Free People
Shoes:
One last tip from the fashionista: Layer, layer, layer!
To be featured or nominate someone to be featured in this blog you can comment below or contact me via email: [email protected]