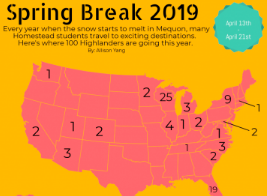 Allison Yang, Staffer
April 2, 2019 • No Comments
Whether they are traveling abroad or staying local, students are eagerly awaiting the arrival of spring break.  Lasting from April 13 to April 21, spring break is a well-deserved hiatus from the daily responsibilities of...
March 5, 2019
Homestead High School teachers took on the challenge...
SWIPE HERE: The High Price of Credit Cards
October 19, 2018
"Mom! Dad! May I please borrow the credit card for...
April 13, 2018
Four nights and three days led me on an unforgettable...
April 12, 2018
"Oh, you Row? Your arms must be big," is a common...
Follow Us On Twitter @Homestead411 @HHSsports411 #mightyhighlanders
Like Highlander Publications on Facebook