Freshman Friday: Ava Wojnowski sprints her way into freshman year
February 10, 2017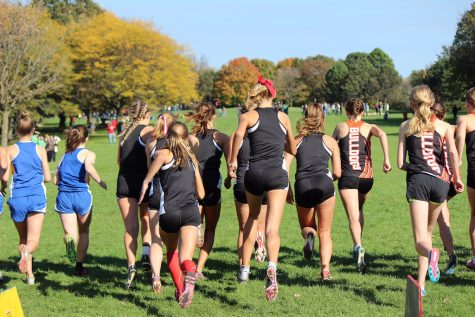 Every Friday, Highlander Publications chooses a freshman to be featured in "Freshman Friday," giving the student population the opportunity to get to know its freshman class. Read below to learn about this week's freshman, Ava Wojnowski.
---
5:20 a.m. she wakes up.
6:15 a.m. she takes part in yet another morning run, as she has done for months every single Monday and Wednesday.
7:00 a.m. she takes a quick shower at Homestead and prepares to start her day.
7:25 a.m. she starts class alongside her classmates. Little do they know of her journey only minutes ago.
Ava Wojnowski is a varsity cross country runner who has a tremendous dedication towards her running career. Wojnowski is currently attending winter training to get prepared for the upcoming track season alongside (about) ten other high school girls. The girls attend the daily, rigid after-school training, coordinated by James DeMarco, cross country, track-distance coach, and Mr. Paul Sivanich, cross country coach and physics teacher.
"I run Monday through Saturdays and take my break days only on Sundays," Wojnowski said.
In addition to two morning practices a week, Wojnowski has after school workouts that ranges at anywhere from ninety-minute runs to 400 meter repeats on the track.
"Workouts are always mentally hard at the moment, but I know they will benefit me in the future so I push through and imagine my future running career; also, I know one day I will feel proud of all the hard workouts I have been through and realize it was all worth it in the end," Wojnowski said.
Throughout the course of the winter training, temperatures range between thirty five degrees and five degrees fahrenheit. Despite the challenging temperatures, the runners have neglected to compromise their routine for the sake of avoiding the freezing Wisconsin environment.
"It's never easy, but overall running really helps me because it allows me to calm down and release the stress buildup throughout the school day," Wojnowski said.
Although Wojnowski has had shin splints, compromised her social and academic life and felt the pressure of performing well in all her runs, she wouldn't change change it for a thing. Wojnowski can only look forward to her future running lifestyle with positivity.
"I am excited to know what it's like to be an older runner on the team and be a leader for the younger runners," Wojnowski said.