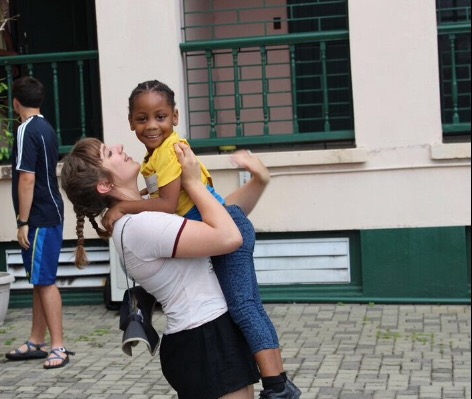 Submitted Photo
A future of service: Murphy pursues volunteer work
"Starting in September, I'll be going on a nine-month mission trip. I'll be traveling to five different countries: Colombia, Ecuador, Thailand, Cambodia and Albania. My team and I will be working with local churches, orphanages, schools, farms and pretty much any other sort of organizations you can think of.
I've been doing mission work since I was an early teenager. I've traveled across the country with my church. I took my first international service trip to Jamaica last summer. It was the most eye-opening experience I've ever had in my life so far. I realized I just really wanted to do service work.
I've always been extremely passionate with helping others. I'm not certain with what I truly want to do with my life, so I decided instead of doing nothing, I would fully utilize my time to pursue one of my passions.
One challenge I've faced during this process is seeing other classmates commit to schools, knowing I won't even be in the country next year. Leaving my friends and family is going to be quite hard for me, but I couldn't be happier with what's to come next. Meeting new people from across the globe is going to be a life changing experience. It will be something that I'll forever be grateful for.
Serving others changed the person that I was and helped better shape me into the person I hope to become. Traveling and meeting tons of new, incredible people and listening to their stories has set the course of what I want to do in life. The trips I have taken in the past threw me in situations that school could never prepare me for.
Volunteering, no matter the location, gives you the chance to vote every day about the kind of community and world you want to live in. It gives you the opportunity to be a part of something bigger than yourself and use your civic responsibility for the greater good. The absolutely best part of volunteering is it has given me a chance to form real relationships that have had lasting impacts on my life.
I'm so unbelievably grateful for the new perspectives I have gained over these past few years. I recommend others to go out of their comfort zones. You will never regret it. You will never look back." (Clare Murphy, senior)