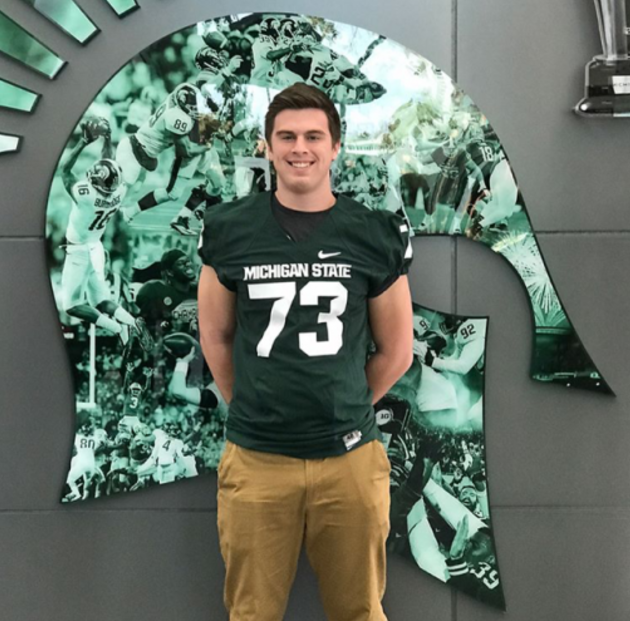 Submitted Photo
Henrichs takes his athletics and academics to the next level
"I'm going to Michigan State University because I felt like it was the best fit for me both as a school and as a football program. I was accepted into the Honors College which is why it was the best option for me academically. It gives me a lot more options.
As far as the football aspect goes, I really like the coaches, players and history of the program. The coaching staff is very honest and they care about each player as an individual. I got along great with the players I hung out with on my visit.
To become a preferred walk on (PWO), I first had to get in touch with the coaches. Coach Salem from MSU was at the Homestead weight room one day, so Coach Keel introduced me to him. After talking for awhile, I sent him my highlight video that I had made containing my best plays from my senior season. After that, we remained in contact until they had me up for a visit. While there, I got to talk with the head coach, Coach Dantonio, and he told me they wanted me as a PWO.
Being a PWO means I am a member of the team just like anyone else, except at the end of the semester I get a tuition bill, unlike the scholarship players. Coach D treats all the players the same way and I will have access to all of the same things that scholarship players have. I suit up for games and practice with the team as any player would.
I started playing football because it was my favorite sport to watch. I also thought I was pretty good at it. I had a lot of friends who played and I loved playing, so I kept doing it. The best part of football is how much of a team sport it is. You can never win a game off one person. So, as a team we rely on and trust each other. It builds a brotherhood that I haven't experienced anywhere else.
My biggest obstacle was probably breaking my foot and being put on the Freshman B team. I missed half my season and our team didn't win a single game. It was my least favorite football season by far.
In college, I look forward to learning a lot more about the game, being able to travel for games, meeting tons of new people and just enjoying the atmosphere. College football on Saturdays is one of the coolest things sports has to offer and I'm really excited to be a part of it.
I couldn't have done it without my coaches and teammates. They made me better and I improved a lot over the past four years. Without the experiences I had in high school, especially on varsity, I wouldn't be the same football player and person that I am today." (Jack Henrichs, senior)