Q&A about the PSAT
October 11, 2017
Juniors signed up to take the PSAT on Oct. 11 will be testing for two hours and forty-five minutes in total. It is essential for these test takers to understand the purpose and value of this assessment in order to increase their chances of achieving academic rewards. Here are some common questions about the PSAT:
      1. What is it?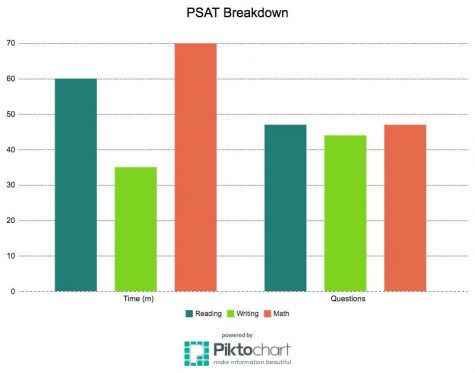 The Preliminary SAT, also known as the National Merit Scholarship Qualifying Test, is a preparatory version of the SAT exam. Each student can only take the PSAT once per year. Most students take the test in both sophomore and junior year (Kaplan Test Prep). In other words, this test is a precursor to future standardized tests including the SAT and the ACT.
      2. What do I need to bring?
Homestead is suggesting students to bring a number two pencil, an eraser, a calculator, their ID number and their email.
      3. What are the average scores?
At present, the average PSAT score is 1009 for juniors and 933 for sophomores. A good PSAT depends on what your PSAT goals are; in other words, it is important to set a goal depending on whether or not you are taking this test for practice or to attempt to qualify with those one percent of students who will win a scholarship. A good PSAT score could also be any score in the 75th percentile or higher, or simply a score similar to what you'll need on the SAT  to get into the colleges you're planning on applying to (PrepScholar).
      4. What happens if you earn a high score?
The maximum score you can earn is 1520; each section is scored in a scale of 160-170. Each year the top one percent of junior PSAT takers become National Merit Semifinalists. Of these students, 7,500 go on to win scholarship money (PrepScholar).
      5. How is the test structured?
The test will have a math section, an evidence-based component and a writing portion. There will be 60 minutes for reading, 35 minutes for writing and seventy minutes for math (StudyPoint).