Girls varsity basketball scores win against Grafton
December 8, 2018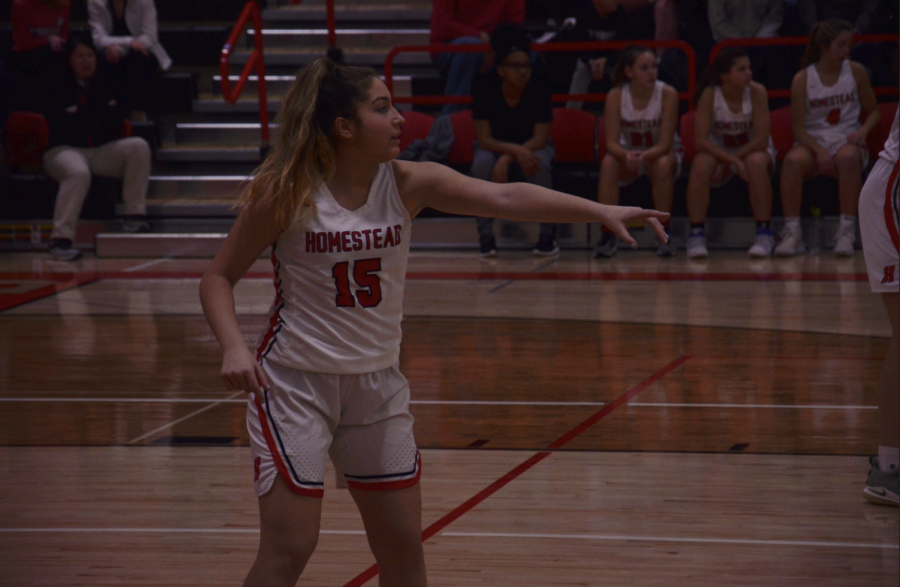 The varsity girls basketball team dribbled its  way to a victory in a tight match against Grafton High School on Dec. 7. After many ups and downs, the team won in a tight 48-46, adding to their previous two wins against Port Washington and West Bend West, with only one loss so far in the season.
"It was a hard-fought game," Coach Corey Wolf, head coach, said. "Both teams played hard and left it all on the floor."
The first half of the game presented many victories and challenges for the team. At about eight minutes in, Homestead trailed 4-2, but with three-pointers from seniors Samantha Crivello, Ally Rilling and Grace Mueller, they were able to gain back the lead, leading by eight points 20 minutes into the game. However, they once again fell behind around five minutes later, only to quickly pick it back up again. By the end of the half, Homestead was up 31-26.
"I was very stressed," Ally Rilling, senior, said.
During the second half, every point mattered. Though Homestead began with a strong lead, Grafton closed the gap, trailing by five points about five minutes into the half. Twenty minutes into the half, the Lady Highlanders led by 10 points. Still Grafton began to inch ahead, with the score being 48-41 with just under two minutes left.
"We made a lot of mental errors at the end," Rilling said, "but then we played it smart, and we won."
Though Grafton managed to further close the gap, thanks to some strong defense, in the end the Highlanders emerged victorious.
"I think when it came down to the last few seconds even though it got really nerve-racking, we played together as a team and came out with the victory," McKenna Marotta, sophomore, said.
The win added to the Parent Night atmosphere. Each player presented her parents with a red rose, to show gratitude for the support and commitment these mothers and fathers show to their student athletes.
"Parents do so much for us during the season," Marotta said, "that even though we celebrate it for one night they mean the world to us each day."