Conception to perfection: One man's vision starts Homestead orchestra program from scratch
April 26, 2021
The year is 1975. Shelby Dixon, former orchestra director, takes his first steps into Homestead's concrete Black Box Theater which will now serve as his orchestra classroom. Little does he know that he will spend the next 26 years of his life teaching, directing and shaping the string orchestra program at this small-town high school.
For Dixon, music has always played an influential role in his life. As a young kid growing up outside of St. Louis, Mo., Dixon had a musical childhood and always found himself drawn to playing instruments.
When it came time to graduate high school, however, Dixon enrolled in the scholarship program through the Navy Reserve Officer Training Corps (NROTC) at Northwestern University in Chicago, Ill. Although this program did not offer a position for music officers Dixon joined the school's marching band to continue pursuing his passion.
While the marching band helped to fill the void, Dixon longed for more.
"I was a frustrated musician so I transferred to the school of music to get a degree in music education of instrumental music," Dixon explained. After earning his bachelor's degree Dixon continued onto graduate school at Northwestern to study music history and literature.
Happy to finally be pursuing his passion, Dixon briefly taught at a local high school in Illinois and then found a job at Alverno College in Milwaukee mainly teaching music history and literature to freshmen and juniors. It was at Alverno that Dixon also met his now-wife, Janet Dixon. "She was a senior, and she was never in any of my classes, but she came back to campus to do her student teaching," Dixon said, "and that is where I first met her."
Fast forward a few years and Dixon now has a wife and kids and his job at Alverno. As his family continued to grow, Dixon knew that change was on the horizon. "I had been at Alverno College for six years but you can't stay in that field without a Ph.D., you're not going to make it," Dixon said, "and I chose to not go for a Ph.D." With that decision in mind, Dixon began the search for music teaching jobs in the area.
"The string teacher that started the grade school orchestra program was a friend of my wife and she put the word out that there was going to be an orchestra at Homestead and they needed somebody to do it," Dixon explained. At that point in time Homestead did not have an orchestra and the program had to be built from scratch.
With limited orchestral teaching experience, Dixon decided to apply for the job in Mequon and give it his best shot. In his first year at Homestead, in 1975, he had a total of seven students in his class. "I had four violins, two cellos, and a bass and that was my orchestra," Dixon reminisced with a laugh. "We had a good time though," Dixon said.
Compared to the band program with 250 students at that time, Dixon remembers feeling overwhelmed and unsure about where the curriculum was headed. "I wanted to cry. It wasn't because of my students, it was because I was like 'where is this going?' and 'is it ever going to make it?'" Dixon explained. Not only was he trying to kickstart the classes at Homestead, but Dixon was also teaching orchestra at Lakeshore Middle School as a part of the feeder program for the high school.
Despite a slow start, as more students came through the elementary and middle school programs Dixon saw the high school orchestra start to grow. "I just had to wait and it was like a snowball as more and more kids came in, but my job was to retain them. I never taught a class that students were required to take, so your personality is your program," Dixon joked.
Not even six years later Dixon established the orchestra's spring break tours where he would take students on trips around the country to play in different venues. Between the years 1981 and 2001, Dixon took anywhere from 35 to 110 students to various locations around the country.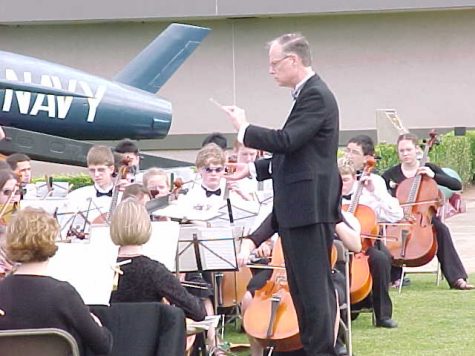 The first trip stayed fairly local with a bus trip to Chicago and St. Louis, but Dixon eventually took students to Honolulu, the Bahamas and Mexico. "My favorite venue we played was the National Cathedral in Mexico City in 1989," Dixon said, "I really liked performing there."
At this point, the program was gaining significant traction in the community but it was when Janet, his wife, became the middle school orchestra director in 1985 that the orchestra flourished. "She became [the feeder program] and that was when the orchestra really started thriving," Dixon said. The husband-wife team worked in tandem to continue bringing kids through the curriculum for over 15 years with one goal in mind: playing original, orchestral music.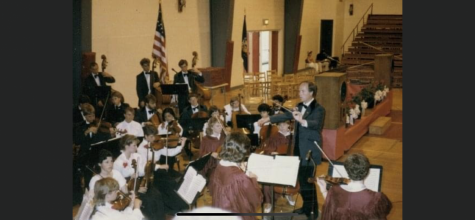 "We wanted to build and refine the performing techniques of the players to the point that they could experience and share more advanced, real, authentic orchestral music," Dixon said. He explained that the ultimate goal of a school orchestra is to, "not have to make do with arrangements for school orchestra and play original Beethoven, original Tchaikovsky, and original Brahms."
Dixon saw his plan come to fruition when the school orchestra started playing authentic pieces in their performances. "The goal for any aspiring orchestra is to play [authentic music] and we were able to do that in the later stages of my tenure here," Dixon said.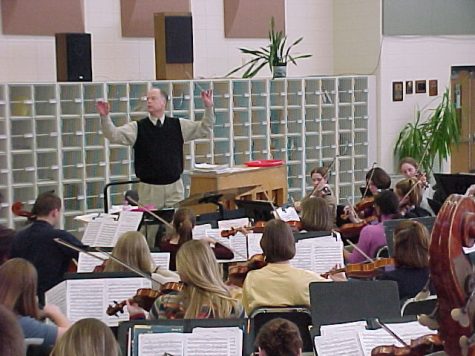 In between all his time in the orchestra room Dixon also made many significant contributions to Homestead besides music. By 1987 he was head of the fine arts department and created the graduation requirement that stated that all students would need to have a fine arts credit to receive a diploma. Dixon also coached the boys tennis team for six years and conducted over 20 shows in the pit orchestra for Homestead's theater department.
Outside of Homestead, Dixon worked for the Milwaukee Youth Symphony Orchestra (MYSO) on their conducting staff from 1984 to 2016. "I decided to gravitate towards something that was an extension of my own field," Dixon said. With the youth orchestra, Dixon traveled to China, Europe, and Canada to perform in some of the most prestigious venues around the world.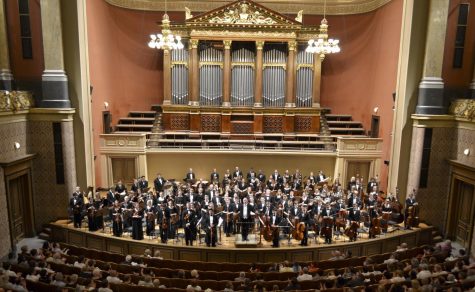 As his full-time teaching days came to an end, Dixon retired from his position as orchestra director in 2001, 26 years after he first initiated the program. He passed the torch down to Mr. John Emanuelson, Homestead's current orchestra director. "Mr. Emanuelson was our choice to replace me…and he took [the orchestra] to the next level," Dixon said.
Although Dixon was not on the committee to choose the future orchestra director, Emanuelson was a previous student of Janet's and the Dixon family knew him well. "We knew him from long before and he was certainly the person for the job," Dixon expressed, "and we were so lucky that the district saw fit to hire him."
Even with his retirement, that was not the last Homestead would see of Dixon as he returned the next school year as a substitute teacher and continues to sub to this day. "It wasn't a plan [to become a substitute] but the district office called me up and asked if I could sub and I've been subbing ever since," Dixon said.
The 2020-2021 school year marks Dixon's third year as a full-time building substitute and his 46th year at Homestead. Even though he does not see his time at Homestead continuing much longer he is so proud of the school he calls his "second home."
"When I started here, [Homestead] was far from being the school that it is today. Homestead has really come a long way and I am very proud of this school, and the way it has grown, and the people that work here," Dixon concluded.