Off the field, female athletes lose
May 29, 2021
I am often asked how well I get along with my teammates.
I am often asked if I am making friends.
I am rarely asked what position I play.
I am rarely asked if I win.
Like many other female athletes, I have spent most of my life on the field, but out of the eye of the public. Throughout my experience as a high school athlete, I have felt the sting of the tiniest of microaggressions constantly reminding me that as a woman, I am less of a "real athlete" than my male peers. Boys' sports are celebrated by the community for their achievements, and they are encouraged to be as competitive and cutthroat as possible. Girls' sports, with their empty stands and emptier support systems, are invisible. People treat our teams as sororities of fun and light-hearted activity. We are, in a word, an afterthought. That is, of course, until the world began to care.
It happened on March 18, 2021. Oregon University basketball player Sedona Prince created a viral TikTok showcasing the vast difference between the weight rooms for men's and women's basketball at the NCAA tournament. It spread across the country and created a firestorm of media criticism about the discrepancies in men's and women's sports at every level.
"When we first got to the tournament, we thought we were being provided the same treatment that the men were. When the of the weight room comparison went viral on social media, it became evident that women are still fighting for equality in sports," Chloe Marotta, a junior guard at Marquette University, said.
Prince's video came at a fiery moment for the issue of women in sports; on national Equal Pay Day on March 21, 2021, highly decorated US soccer player Megan Rapinoe spoke in front of the House Oversight Committee.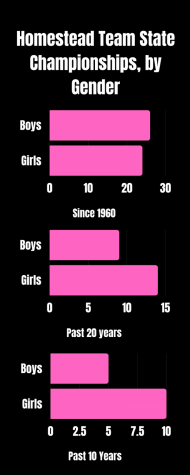 "There is no level of status, and there is no accomplishment or power, that will protect you from the clutches of inequality — one cannot simply outperform inequality…If [discrimination] can happen to us and it can happen to me with the brightest lights shining on us at all times, it can and it does happen to every person who is marginalized by gender," Rapinoe said.
In 2019, the four-time-gold-medal-winning US women's soccer team filed a lawsuit against the US Soccer Federation over claims of unequal working conditions and prize money. That lawsuit was recently settled, but members of the team are still appealing the court's decisions over equal pay, according to ESPN. Their fight for gender equality has brought the issue of women in sports to a very forefront role in the political conversation, and begs us to ask the question: does Homestead and the Mequon-Thiensville community as a whole play a role in the issue of female discrimination in sports? And, if so, what can we do to make athletics a more equitable facet of the community?
For Kate Wade, senior tennis player, recognition has been hard won. The girls varsity team has achieved nine total WIAA State championships, three of them occurring during Wade's four seasons with the team. She feels that the team lacked support from the school community until their most recent win.
"We received more support from the school my junior year than we had ever before. Tennis is a sport that overall is overlooked sometimes, so it's hard to say whether that was due to gender, but I would say girls are not seen as important in sports," Wade said, adding that to remedy the problem, the school can "advertise girls' sports as much as it advertises boys' sports. You hear a lot about boys basketball games and football games and stuff like that, but you never hear about when girls soccer matches are."
Though there have been some battles in the building itself, for others the issue lies more in the culture surrounding athletics in our area. Kelly Denk, longtime assistant coach of both boys' and girls' soccer, is now in her first season as head coach of the girls' soccer team.
"I feel like becoming the head coach of a girls varsity sport has really opened my eyes to how few female coaches that there are out there that are the head coaches of varsity programs. Even within the North Shore conference, I believe I am one of two. And the other head coach has also recently come into the position, like I have. So I would say that I have noticed that there are not as many female head coaches out there for girls varsity sports as I would have thought there'd be," Denk said.
Denk was somewhat correct: in 2019, all ten girls' soccer programs in the North Shore conference were coached by men. Prior to the cancelled 2020 season, Denk and a female coach for Hartford were hired; however, due to a faculty change, Denk is now alone in her gender among conference coaches. The lack of female representation in the leadership of girls' sports is a reflection, perhaps, of an overarching cultural stereotype that picks men as the authorities on all sports- even girls' sports. However, Denk feels that this culture can be changed, and that recent shifts in the rhetoric of the athletic department are indicative of positive growth.
"A conversation that's starting right now in the athletic department that I'm really excited about is that we have to start finding ways for girls to have weight training, speed training and strength training work. I think right now there is sort of this expectation in some of the boys sports that offseason training is part of being in your sport, and there are a lot of female student athletes who want to engage in that. I feel like it's not as normalized for girls athletics, but that is a conversation that we're having right now as a collective group of head coaches, and people are really supportive of the momentum that that's gaining," Denk said.
Similarly, Marotta feels that the recent media coverage of the inequities present in men's and women's athletics as a result of Sedona Prince's video is representative of a proverbial light at the end of women's athletics' invisible tunnel.
"After the post surfed the internet, support came pouring in. I believe that this was a blessing in disguise and that more eyes were on women's basketball than ever before. The weight room incident led to thousands of people watching our games and for that I am appreciative. Although it was hard to see that change still needs to happen, it made me happy to see all of the people and organizations who are willing to make a change with us," Marotta said.
Ultimately, while I agree with Denk and Marotta that improvements are on the horizon for the world's treatment of its female athletes, the culture in the community- and in our society as a whole- still treats girls sports as an afterthought.
All we need, from high school to college to Olympic teams, is for people to see us. It's clear that increased visibility for female athletes has done wonders for equality, and it can do so much more. We need to be seen as athletes, not as "girls who play sports," because ultimately, it's not supposed to be about weight rooms or representation. The goal is, and always has been, to let girls play without a greater fight than what's on the field or court.
One day, I hope to see our victories just be victories, not representative of some huge mission for all women. I am confident that that will happen, that one day, girls everywhere will be able to excel in their sports without fear of judgement or inequality.
We are athletes, after all. That's all: just athletes. And we want to represent our schools, not our genders.