Black History Month Blooms
March 1, 2022
The reawakening of the Black Lives Matter movement in 2020 occurred quickly after the end of the school year, and Homestead students found themselves connected online via social media as history unfolded in front of their eyes. While some took to apps like Instagram to repost aesthetically pleasing infographics and share globally supported petitions, others looked down upon the cultural events or even took to Snapchat to videotape themselves mocking the death of the man who sparked it.
The dissonance between my peers' understanding of and respect for what was happening around the country was alarming and served as a stark reminder of the social climate that existed within Homestead's halls—even though we were all miles away from the campus. It was clear that the empathy and sensitivity that one would have been required to possess to treat the current events with the delicacy that it deserved was not facing a deficit because of a lack of morality, but rather a lack of cultural and historical comprehension.
Homestead's relationship with black history has always been a complex one as the school has struggled in the past to keep up with significant elements of the black experience. Martin Luther King Jr Day, a day established to commemorate the life's work of the luminary figure through service, only started being observed by the district in 2016—30 years after it became a federal holiday.
"I do recall never having Dr. Martin Luther King Jr day off," Nia Feaster,Class of '15, said. "I always thought it said plenty about the school that we didn't recognize that holiday"
In the past, Black History Month was treated like just another set of 28 days in the school's calendar. "I don't remember it ever really being celebrated or even acknowledged," Abbey Perkins, Class of '19, said.
The country as a whole is still working on coming to terms with the simultaneous beauty and brutality that creates Black History and adopting all of that into the cannon of history itself, so it's completely understandable that Homestead, a privileged suburban high school whose population is 79% white, has suffered from the same type of learning curve. But as the years go by and the makeups of both the country and this school become increasingly diverse, the choice to make a conscious effort to integrate intersectionality and empathy into the fabrics of these institutions rises in imminence. Failing to do so only perpetuates the heinous wrongs of the past and elongates the process of remedying race relations even further—-which doesn't benefit anybody.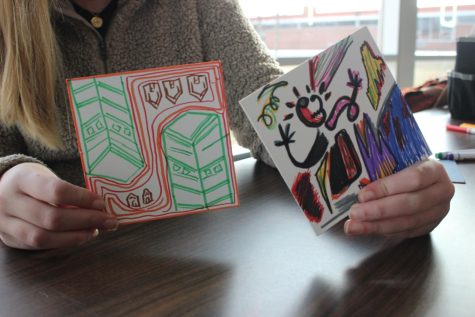 When it came to 2022's Black History Month, the leaders of Roses and AAML, Homestead's clubs designated to create safe spaces for black girls and boys, were committed to creating 28 days full of information and celebrations that would be unlike anything that the Homestead community had ever seen before.
"I feel like having events is a good way for people to see what we want to have happen for this school and learn what black history is really about," Amanda Gilbert, senior Roses member, said.
The month started with an integral part of black culture: art. On Feb 3 students flocked to the cafeteria to construct an artistic display that showcased the iconic works and biographies of figures like Kerry James Marshall, Lorna Simpson, and Jean-Michel Basquiat for the student body to see and hopefully be inspired by. On tiny squares, students created their own pieces of art that reflected the unmistakable styles of the artists.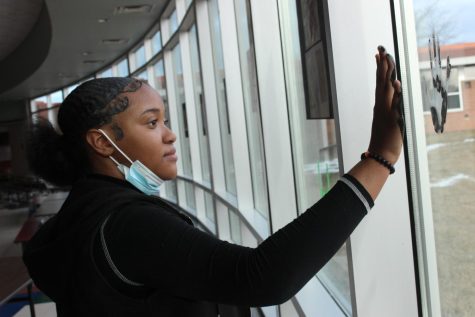 "I thought that this event was a really cool way to celebrate Black History Month in a creative way," Mary Bridget Jones, senior and Vice President of the National Art Honors society, said. "Learning about history through an artistic lens can be really eye-opening."
As the lyrical calligraphy from Ana-Jaquez Zarate's brush spelled out "Celebrate Black History Month Through Art" the painted handprints of numerous African American students were pressed up against the cafeteria's windows, two actions that symbolized the devotion that students had to make their mark on their school and demonstrate that Black History is something that all students—regardless of their race—can enjoy and appreciate.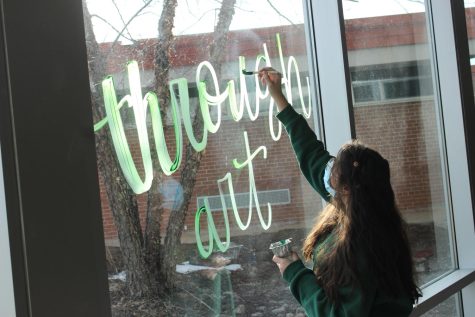 The art event's sentiments were replicated throughout the school's campus as Homestead's academic hallways were covered with celebratory decorations. Pages from famed novels penned by literary figures such as Zora Neale Hurston and Toni Morrison were plastered upon the doors of English classrooms, student-created posters sharing the often-overlooked contributions of mathematicians and scientists such as Carolyn Parker and Benjamin Banneker wrapped the unused lockers of the 200 wing, and the TVs in the commons projected unique information about other unique facets of black history.
From the outside, Homestead presented itself as a place that was overflowing with its commitment to actively interacting with the complex, fascinating realities and figures that compose the history of African American people in this country; however, as the bell rang throughout the month the majority of students walked through their schedules seemingly unaffected and uninterested in the history that was written upon their walls unless it was spoon-fed to them after being integrated into their teachers' lesson plans.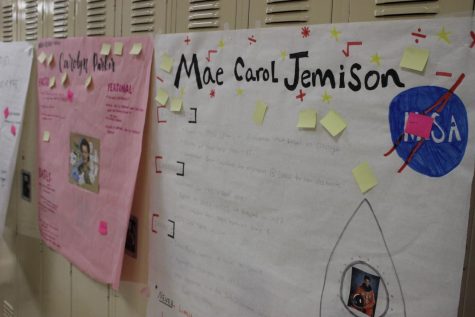 The student body's reaction to the decorations was disappointing, but not surprising to Gilbert. "In the past when there have been TV slides and posters up around school people usually don't pay that much attention to them," Gilbert said. "It's just another thing for them to walk past."
This understanding of her peers is what inspired Gilbert and the other Roses and AAML leaders to take their event-planning one step further by organizing something that would be hard to ignore: a flash mob.
On Feb. 16 a group of eager people stood in front of the black box's mirror ready to learn from Cedric Garner, a Milwaukee-based dancer and choreographer that also competed on "So You Think You Can Dance."
While instructing the group the man emphasized the importance of letting their excitement and cultural pride become essential parts of their performances that may potentially eclipse the choreography itself. "His style is a bit different from what I'm used to, but it got me out of my comfort zone and allowed me to really just go crazy and I freaking loved that," Madison Seymour, senior, said.
Kathleen Connelly, computer science teacher, attended the workshop after being invited by some of her students.
"At first I thought that they were kidding," Connelly said. "But they were like 'no, we really want you to come!' so I took it as an opportunity to support my students because I really believe in everything that they have done all month."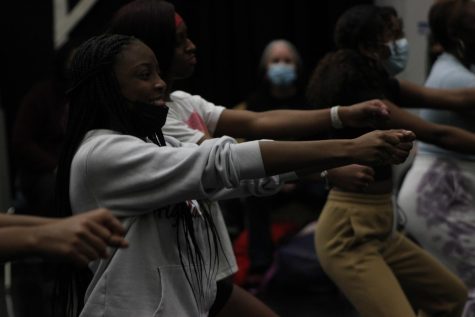 From the lithe lines created by the bodies of Alvin Ailey's company to the globally recognizable moves of teenaged Jalaiah Harmon's renegade Tik Tok choreography, dance has been a medium through which African American people have been able to express their emotions in a way that words fail to throughout history. The power of movement was proven to be an enduring one at the dance workshop as the students' grinned as they twisted their bodies to and fro.
"Dancing is my outlet," Carli Bennett, junior, said. " So coming to the workshop after school was really enjoyable because everybody was in a space where they felt comfortable with just being themselves, trying, and having fun."
On Feb 24 Janette Braverman, president of the Ozaukee-County branch of the NAACP entrepreneur, author and MTSD parent, reaffirmed the importance of community building to over 40 students during her presentation.
"My network has always been diverse," Braverman said. "I've never just had all black friends or all white friends, and I want to challenge you all right now to take that step and communicate and connect with people that don't look like you because it will help you so much later in life."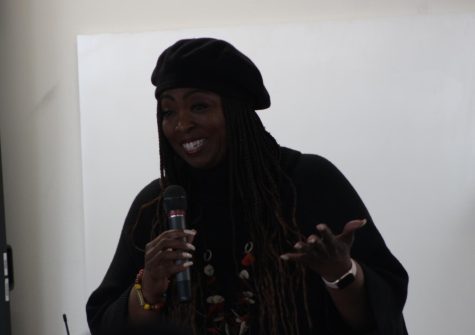 In the second row of the audience, Nathan Moldavsky, junior, was the only white student in attendance. His presence was celebrated as a physical representation of what allyship looks like in an educational setting.
"I really enjoyed attending Mrs. Braverman's presentation; it was incredibly informative and gave a comprehensive history of the struggles facing the black community in the past and in today's world," Moldavasky said. "I took away so much more about individuals who overcame great obstacles and made significant strides in American history."
Braverman was hand-selected by the month's organizers because of her reputation within the community as a strong and knowledgeable leader. "She really made an effort to highlight lesser-known figures and put on a really intriguing presentation which is why we believe that she was and is the right person to speak at the event."
Braverman's presentation empowered several students to share their experiences as black students at Homestead.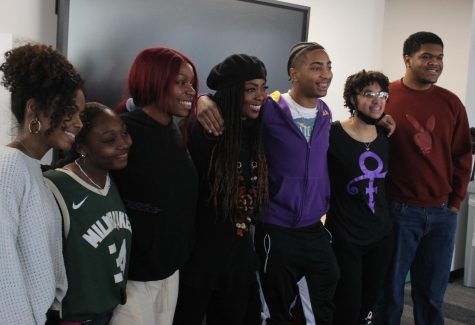 "People in this school constantly assume that my hair is fake and they grab it without my consent and ask me where I bought it from," one student said "Whenever I speak in class discussions my teachers and classmates always comment on how amazed and shocked that they are at how well-spoken I am, as if a black person being articulate is the 8th wonder of the world," another commented.
Principal Eric Ebert sat attentively in the corner of the room, listening to the students' accounts with a concerned look on his face before stepping up to the mic.
"I appreciate Mrs. Braverman being here today because I don't go through the microaggressive experiences that you guys are sharing and this event has given me the opportunity to examine my own biases as a white man," Ebert said. "I'm learning as I'm sitting here today, and I want to continue to learn from you guys to make this school the place that it's meant to be for all."
By acknowledging his position on the spectrum of privilege the leader extended an olive branch that resonated with the students.
"We were all a little bit nervous about crafting something for Black History Month here because we didn't know how the students and the adults within the building would react," Jana Arie Standridge, senior, said. "Even when we faced setbacks, Mr. Ebert and Mrs. Cicero continued to search for ways that we could showcase our passion."
Before stepping out for their flashmob, the dancers buzzed with excitement, ready to showcase the passion that had been motivating them all month long to the greater student body.
"I feel amazing and really hopeful about what's going to happen during lunch today," Standridge said. "It would be amazing if people appreciate all of the hard work that went into putting this together, but we'll see."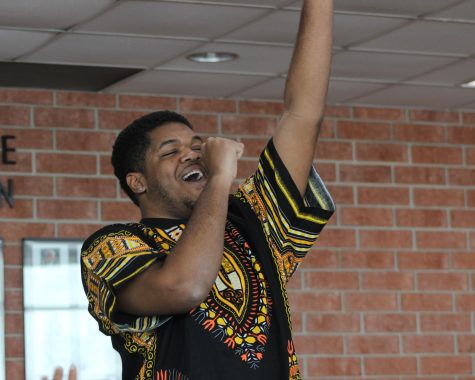 The members of Feb. 28's B Lunch were instantly aware of the fact that something out of the ordinary was about to happen, and they whispered amongst themselves about what a missing table, sound system plugged into the wall, and Mrs. Cicero giggling in the corner could indicate.
The opening beats of Sho Madjozi and A STAR's Stepping Good instantly immersed all of the onlookers into the energetic surprise performance.
The dancers hopped onto a lunch table in the center of the room and gleefully proclaimed "I'm Black and I'm Proud!" in unison with James Brown's unmistakable voice and proceeded to demonstrate that pride for two minutes.
"It was really nerve-wracking to be up there in front of all of those people at first," Adian Parks, senior, said. "But as soon as I got into it it felt amazing."
Overall, the vast majority of the audience responded warmly to the performance by cheering loudly, clapping along to the beat, and lifting their phones into the air to record the spectacle and cement its existence within the online world through social media.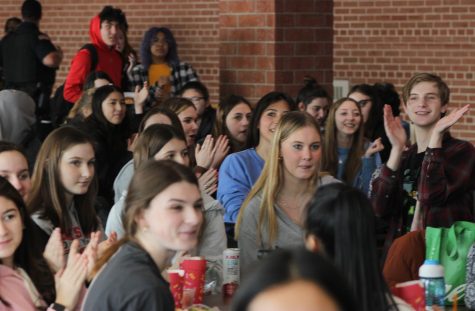 "I got so into it," Ben Usatinsky, senior, said. "It was the most exciting thing to ever happen at lunch. I was dancing with them the whole time."
By taking advantage of Black History Month, an annual time dedicated to celebrating and uplifting parts of African Americans' pasts presents and futures, Homestead gains the opportunity to fully live up to its mission statement and emphasize how "Respect, responsibility, fairness, citizenship, diversity and inclusion are essential for a safe and successful learning environment"
This year, with the combined efforts of Roses and AAML, Homestead has had a month that has effectively represented how far the school community has come in terms of its demonstrated interest in embracing inclusivity and how far it still has to go.
"We just want people to be aware and respect the fact that Black History month is something that's important, and to take the information that we've presented this month with them," Gilbert said. "Because there is still so much that people don't know about the lives and experiences of people that look like me."