What's in your closet: Sarah Lundeen sees a fashionable future
February 4, 2015
If you're anything like me, you see an outfit — a perfectly accessorized outfit, complete with the perfect jacket, a wonderful statement piece, a pop of color and amazing shoes– and you wonder where in the world did that exceptionally dressed person get those amazing articles of clothing. And instead of asking like a normal person, you, and I, hit the stores in search of that beautiful item and return home without any luck. And if you're anything like me you sit in front of your closet in the morning with a pile of no-gos agonizing over what the heck you should wear to school, wishing you had that really cool sweater that girl in your fourth hour class was wearing.
Let's be real, life would literally be a million times easier if we all  just knew where our classmates get their awesome clothes. So, I did what any fashion lover and blogging enthusiast would do — I started a blog about Homestead students and their amazing closets.
---
Sarah Lundeen always looks perfect. It's a fact, not an opinion. I have never seen someone accessorize better — period. Describing her style as "eclectic," Sarah said, "I think it's hard to be stamped as one specific style, so I won't let that influence the clothes I buy. If I feel like wearing a oxford button up and pearls one day and a fur vest the next, let that be it. However, my personal style is forever evolving."
Sarah frequents J.Crew and Zara, but she said her favorite places to shop also consist online stores such as Piperlime and ASOS.
A fashion lover, Sarah desires to get involved with the "ever-changing industry," and she plans to study textile and apparel management at Mizzou.
Inspired by women among the ranks of Jenna Lyons (the creative director of J. Crew), Leandra Medine (a blogger), and Diane Von Furstenburg, Sarah admires these powerful women for their "amazing perspectives of fashion." Additionally, Sarah said her favorite designers include Valentine, Rebecca Taylor, Caroline Herrera and Céline.
Sarah's biggest advice on fashion: "personal touches really make an outfit. Whether that is a monogram on your cuff, your grandmother's bracelet, or a scarf you knitted-  it brings a sense of uniqueness."
Impeccable taste, personal pieces and trendy touches, Sarah's closet serves as the mixing bowl of a beautiful wardrobe. She views clothing not as just fabric and materials, but as Jenna Lyons said, "a transformative power." Sarah said, "I think the way one presents themselves plays a role in how they are perceived. It can send a lot of confidence."
So lets praise her beautiful closet for a couple minutes: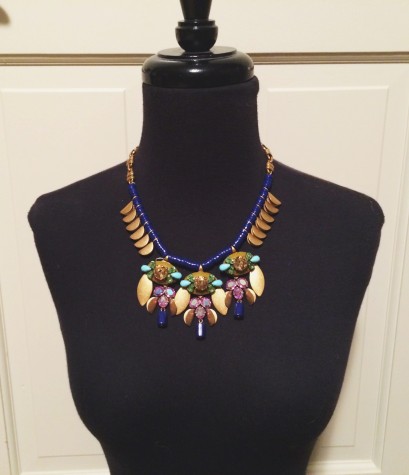 BLING BLING!
"This necklace is so unique and loud- it can make an outfit go from boring to interesting."
 Get the look:
Necklace: J.Crew, no longer available, find something similar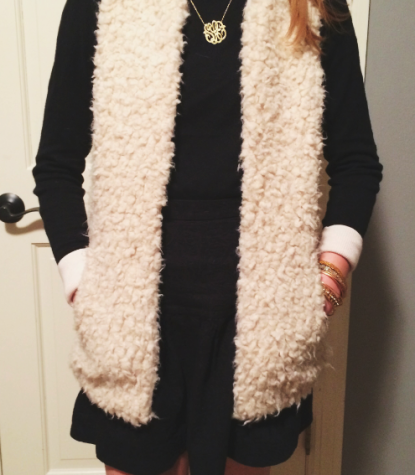 THE BEST OF THE VEST
"I love this vest; it makes me feel very chic. The sweater is from urban outfitters. It is color block with a twist because the backside is cream and the front is black. The skirt is from j. Crew, it is very flirty because of the fit and flare. It also has really pretty texture when looked at up close."
Get the look:
Vest: H&M (no longer available), find something similar
Sweater: Urban Outfitters
Skirt: J.Crew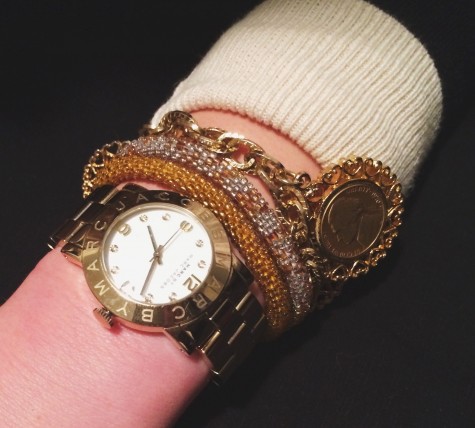 RSVP TO THE ARM PARTY
 "The watch is Marc by Marc Jacobs. I paired it with bracelets from Faye's that benefits a small village in a third world country. Along with that is a coin charm bracelet that was my grandmas."
 Get the look:
Watch: Marc Jacobs
Bracelets: Nepal Bracelets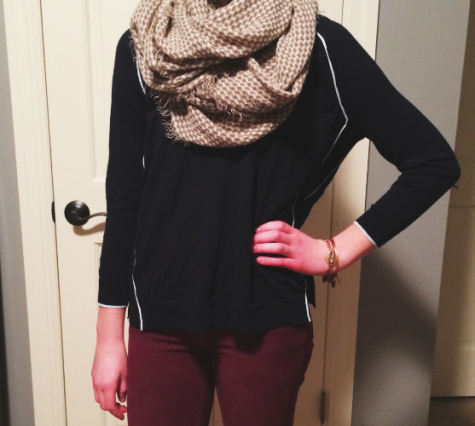 LETS KEEP IT CASUAL 
"I got this scarf from Impressions, the salon where I work."
 Get the look:
Scarf: Impressions Salon,
Sweater and pants: J.Crew
Bracelets: Alex and Ani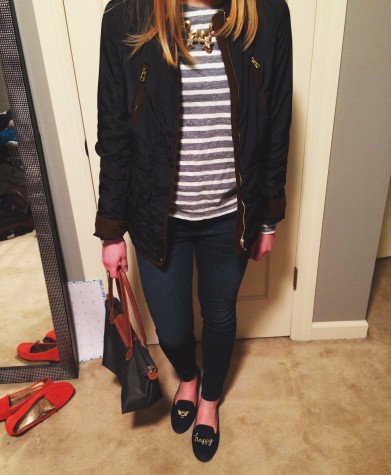 GET SMART
Get the look:
Necklace: J.Crew
Shirt: J.Crew
Jacket: Zara
Jeans: J.Crew
Bag: Longchamp
Shoes: C Wonder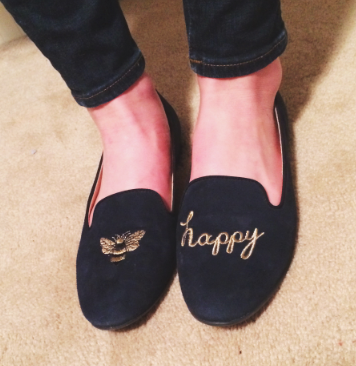 IT'S ALL IN THE DETAILS
"The C Wonder smoking slippers (pictured) really speak for themselves. I think they are punny and cute. It's a simple moto to live life by."
Get the look:
Shoes: C Wonder (no longer available)
---
To be featured or nominate someone to be featured in this blog you can comment below or contact me via email: 
[email protected]