Homestead choirs perform "A Grand Night for Singing"
The Homestead choirs celebrated their 28th annual "A Grand Night for Singing" concert on Wednesday, Nov. 11 in the James Barr Auditorium. The show opened with all of the choirs singing verse one of "The Star-Spangled Banner," and then continued with only the treble choir singing verse two.
The first song performed was "It's a Grand Night for Singing" by the combined choirs, which was followed by Disney's "Beauty and the Beast" song "Be Our Guest." Soloists during "Be Our Guest" were Andrew Lococo, senior, as Lumière, and Romina Sapozhnikov, junior, as Mrs. Potts. There was also a kick-line during the song that was choreographed by Ms. Amelia Figg-Franzoi.
"Every concert is very different. Many people think that it's only about singing songs from people who died a long time ago. While we do learn from many of those composers, choir is more about coming together to perform because we all love music," Virginia Lee, senior, said.
Afterwards, the audience was encouraged to sing along to "One Man's Hands," which the Homestead choirs learned on the first day of school this year. The Highlander Choir then sang the songs "Hava Nashira," which was sung in Hebrew, "Più non si trovano," which was sung in Italian, and "Unity."
The Highlander and Tartan Choirs then sang "Keep Your Lamps," a traditional spiritual song, and Dominick Cole, senior, played the Djembe drum. All of the choirs then came together again to sing "Big Sky" by Seth Houston, and "We Are…" by Ysaye M. Barnwell.
The Tartan Choir then performed "Te Quiero" by Argentinian composer Alberto Favero in Spanish. Soloists for this song were Skylar Chrobak, senior, Grace Nemcek, junior, Mitchell Larson, junior, and Shelby Decker, junior. The choir then performed "Shoot, False Love, I Care Not," a ballet imitating a dance with two stanzas repeating the musical material in its entirety.
"Sicut Cervus" was then sung in Latin by the Tartan and Treble Choirs, along with "Wade in the Water," a traditional spiritual song warning fugitive slaves to travel by the river to avoid capture by dog-led search parties.
The treble choir sang "Scarborough Fair," an English folk ballad arranged by Mary Goetze. Also, "My Funny Valentine," arranged by Kirby Shaw, and "I Thank You God," by Gwyneth Walker, were performed.
To close the show, all of the choirs combined once again to sing three songs. The first song was "Art Thou Troubled?" by George Frideric Handel. The second was "All of Me" by Seymour Simons and Gerald Marks, with Yanni Chudnow, senior, playing the drum set, and Sam Tucker, junior, playing the bass.
"Never before have I felt the power of so many voices orchestrating and reverberating around the room as I provided a beat for the wonderful people! Choir is a magical thing and should be greatly respected by all those who are graced with its presence!" Chudnow said.
Finally, the last song of the night was "Zion's Walls," which is a traditional American revivalist song adapted by Aaron Copland. "It was a phenomenal concert; it was truly a 'Grand Night for Singing,'" Ashley Landon, senior, said.
Leave a Comment
About the Contributor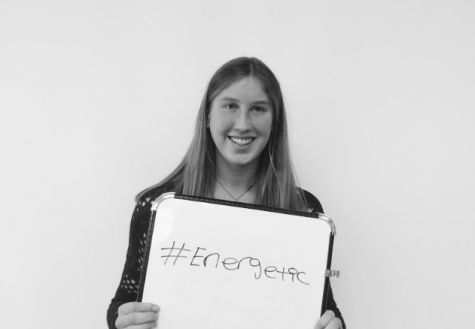 Cassie Shaurette, Photographer
Cassie Shaurette is an outgoing, loud and often annoying senior. She is always stressed about the amount of work that she needs to complete. She loves...