Mike Bruner commits to the University of Iowa for football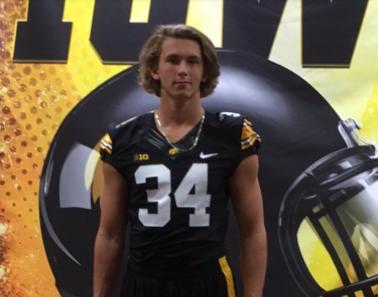 The student section cheers, loud as ever. 
Adrenaline rushes from head to toe.
Teammates yell, helmets and pads collide.
But for Mike Bruner, junior, everything is silent. He sprints to the ball, catching it midair.
Times like these are the reason why Bruner made the decision to commit to play football at the University of Iowa in the fall of 2018.
Starting at the very young age of nine, Bruner began to play cardinal tackle football. From that point, he fell in love with every aspect of the sport: the rush of energy, the coaches, the teammates and the feeling of tackling an opposing player to the ground.
"My family was extremely happy and my parents made me a huge cake and got a giant picture as well. All of my friends were congratulating me and they were all happy about my decision," Bruner said. 
Bruner's brother, Jake, Class of '16, had previously committed to play college football. Although the brothers are very close, Mike said that he made the decision on his own because of how much he had always wanted to play college football.
Bruner explains that he made the tough decision because of, "how how great their football team and academics are. And most importantly, I get along great with the coaching staff."
Although Bruner still has one more year playing Homestead football, his commitment starts a new chapter in his football career.
"It will definitely be different because I'm used to that family feeling and it's a feeling I'll never forget. But at Iowa, I will be able to start a new family with the guys over there," Bruner said.