Holla for Hollander
What a depressing week. It's my last week of swim practice until the state meet this weekend, so that's bittersweet. It's also really cold now. All in all, this has been a very hectic few days. Amid all this chaos, I decided to stay local and less extravagant for this week's indulgence. Wednesday night, I dined in at Mequon's crown jewel, Cafe Hollander.
Going to Cafe Hollander for dinner is basically like never leaving Homestead. Probably 70 percent of its staff are Homestead students; plus, Hollander is, by my judgment, the best restaurant for miles, and I'm not alone in my desire for anything other than a subpar turkey sandwich from the pre-made section at the grocery store. Also, two of my best school friends happen to work there, so it's basically like an eleven hour school day. Anyways, Hollander is surely familiar as well as delicious, and my taste buds weren't in the mood to be adventurous this week. Also, I had no plans to change out of my sweatshirt and leggings to go to dinner, so my choices were forcibly limited.
When I arrived with my mom, my dinner date for the evening, we were greeted by my flustered friend Tori, head-hostess at Cafe Hollander Mequon, and she won't let you forget it. Presumably glad that we weren't an irritating family of nine or a sassy couple with no self awareness, she happily showed us to our seats.
On this trip to Hollander, I thought I'd try something new other than the Sconnie Burger. What is the Sconnie Burger, you ask? "Frickles [fried pickles], Cudahy bacon and Wisconsin-aged cheddar cheese on a Miller Bakery pretzel bun skewered with cheese curds." And it's even better than it sounds. No matter how delectable it is and how warm it makes me feel inside, I thought it was maybe time for a change, and by "I," I mean "my coach," who doesn't think it's a good idea to eat a buttery, cheesy, heavenly burger days before the state meet. What does she know?
I settled on a blackened shrimp and apple salad which my fitness-guru mother suggested. I'd actually tried it before when she ordered it in the past and really liked it; plus fall, honey crisp apples are the best thing ever, so I ordered it. She ordered the Naked Burger, so kind of a role reversal, but not really because, of course, her burger was still as nutritious and healthy as possible.
After some lovely mother-daughter catch-up time and a few reluctant hello's to classmates I really only tolerate seeing between 7:25 a.m. and 2:37 p.m., our dinner was served. This meal was just what I needed to bring some yumminess to my week. It was almost like I wasn't eating a salad it was so sweet; there were apples and oranges and grapefruit and blackberry vanilla vinaigrette. I love me a fruity salad. Shockingly, I was not at all jealous of my mom's weird beef patty and vegetable meal, so I went on eating without a single regret in my dinner choice.
After we cleared our plates, we gave each other that telepathical mom and daughter look, simultaneously agreeing it was time for dessert, or so I thought. I then received the "Remember, you're supposed to be eating healthy, honey," look, and my dreams were shattered. I guess no fudge brownie skillet with pretzel-salted caramel ice cream for me. Whatever.
We left with our hearts happy, and healthy, and ultimately caved and ate dessert when we got home. At least we didn't have to pay for it!
Leave a Comment
About the Contributor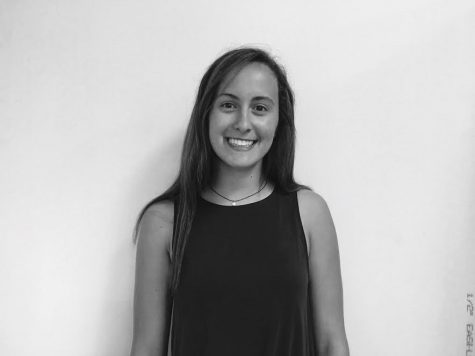 Talia Gottlieb, Assistant Editor
Hi! I am a senior at Homestead, and have been in Highlander Publications since my freshman year. I am on the Homestead varsity swim team, president of...