Homestead earns high rating on DPI Report Card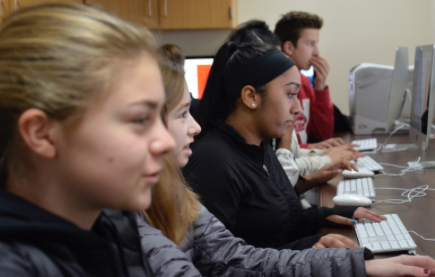 Homestead High School has earned " Significantly Exceeding Expectations" on the Department of Public Instruction (DPI) Performance Report, only one of two schools claiming this title for the thee consecutive years of the DPI Report Card system. On Nov. 17, 2016, the Mequon Thiensville School District (MTSD) earned an overall 86.5 on the report card, with Homestead earning an 89.1 overall.
The DPI Report Card rates all the public school districts, providing each one with an accountability score for their achievement. Homestead has earned a high accountability score, which reflects how the students and teachers perform. "I think by accomplishing this award it speaks incredibly highly of our students, speaks highly of our teachers and the hard work that they do, and just our community's commitment to education," Principal Brett Bowers said.
This report card is also used to show schools what areas they excel in and what areas may need improvement, which helps to move forward with their education planning. "It certainly draws attention to certain things and also points out areas for improvement," Mr. Bowers said.
The report card consisted of three categories, with Homestead scoring 98.9 out of 100 on the Postsecondary Readiness. But in order to close the small gap, Mr. Bowers affirms that Homestead still needs improvement. "Another thing that we do is really try to be mindful of and attentive to trying to place all students in an appropriately challenging environment. We try to better fit the needs of students so they can reach higher expectations," Mr. Bowers said. At Homestead, teachers are working to improve on fitting every student's needs and making sure they're challenged in order to succeed and move forward. The school recognizes what needs to be fixed and is willing to solve any meager issues brought to Homestead's attention by the report card.
Not only does this report card inform the principal of how the school is doing, but it's also used to show families moving into the district the emphasis on quality education. "Really one of the reasons the report card exists is to better inform families about the quality of schools that their children currently attend," Mr. Bowers said. Parents are able to look at the report card and base their decision on how that school is doing.
According to a press release issued by Ms. Jennifer Flierl, executive director of communications, "MTSD achieved the highest overall score for a 4K-12 grade school district serving more than 3,500 students."