Adventures with Granny Franny 3: Reading
Hello, everybody! In honor of AP tests coming up, I decided to be a bit more intellectual this week and talk about books. Books are my personal favorite form of enjoyment, and while I don't feel like they are "granny behavior," they have become rather antiquated with the rise of social media and Netflix. So I decided I would share five of my favorite young adult books with you all and inspire some reading.
---
Six of Crows by Leigh Bardugo
Summary: "Criminal prodigy Kaz Brekker has been offered wealth beyond his wildest dreams. But to claim it, he'll have to pull off a seemingly impossible heist: Break into the notorious Ice Court (a military stronghold that has never been breached), retrieve a hostage (who could unleash magical havoc on the world) and survive long enough to collect his reward (and spend it). Kaz needs a crew desperate enough to take on this suicide mission and dangerous enough to get the job done – and he knows exactly who: six of the deadliest outcasts the city has to offer. Together, they just might be unstoppable – if they don't kill each other first." -Goodreads
Rating: A
Review: This book was absolutely fantastic! While it's a little slow in the beginning, it completely takes off and sends you on an action packed whirlwind ride. The characters were by far my favorite part of the book. Leigh Bardugo does an amazing job of developing her characters through the relationships they have with one another; this makes reading through the perspectives of all six main characters very enjoyable.
---
All the Bright Places by Jennifer Niven
Summary: "Theodore Finch is fascinated by death, and he constantly thinks of ways he might kill himself. But each time, something good, no matter how small, stops him. Violet Markey lives for the future, counting the days until graduation, when she can escape her Indiana town and her aching grief in the wake of her sister's recent death. When Finch and Violet meet on the ledge of the bell tower at school, it's unclear who saves whom. And when they pair up on a project to discover the "natural wonders" of their state, both Finch and Violet make more important discoveries. It's only with Violet that Finch can be himself—a weird, funny, live-out-loud guy who's not such a freak after all. And it's only with Finch that Violet can forget to count away the days and start living them. But as Violet's world grows, Finch's begins to shrink." -Goodreads
Rating: A-
Review: This book obliterated me. It's one of my most recent reads and I could not put it down. It's very emotional and goes deep into the topics of suicide and mental illness. The storytelling is raw, poignant and difficult. By going back and forth between the main characters' points of view, you are able to clearly see the effect that they have on each other and it tears your heart out.
---
Illuminae by Jay Kristoff and Amie Kaufman
Summary: "This morning, Kady thought breaking up with Ezra was the hardest thing she'd have to do. This afternoon, her planet was invaded. The year is 2575, and two rival mega-corporations are at war over a planet that's little more than an ice-covered speck at the edge of the universe. Too bad nobody thought to warn the people living on it. With enemy fire raining down on them, Kady and Ezra—who are barely even talking to each other—are forced to fight their way onto an evacuating fleet, with an enemy warship in hot pursuit. But their problems are just getting started. A deadly plague has broken out and is mutating, with terrifying results; the fleet's AI, which should be protecting them, may actually be their enemy, and nobody in charge will say what's really going on. As Kady hacks into a tangled web of data to find the truth, it's clear only one person can help her bring it all to light: the ex-boyfriend she swore she'd never speak to again.
BRIEFING NOTE: Told through a fascinating dossier of hacked documents—including emails, schematics, military files, IMs, medical reports, interviews and more—Illuminae is the first book in a heart-stopping, high-octane trilogy about lives interrupted, the price of truth and the courage of everyday heroes." -Goodreads
Rating: A+
Review: To start off, don't be intimidated by its size, it's written as a compiled file and it is easy to tear through in one sitting. There is constant action, intrigue and mystery. Thrilling would probably be the best word to describe this book since the characters are just so cool that you are immediately invested in their story and want to find out what's going to happen next. The creative genius of this story plus the awesome storytelling makes a fast-paced, adrenaline-filled read.
---
Attachments by Rainbow Rowell
Summary: "Hi, I'm the guy who reads your e-mail, and also, I love you…" Beth Fremont and Jennifer Scribner-Snyder know that somebody is monitoring their work e-mail. (Everybody in the newsroom knows. It's company policy.) But they can't quite bring themselves to take it seriously. They go on sending each other endless and endlessly hilarious e-mails, discussing every aspect of their personal lives. Meanwhile, Lincoln O'Neill can't believe this is his job now- reading other people's e-mail. When he applied to be "internet security officer," he pictured himself building firewalls and crushing hackers- not writing up a report every time a sports reporter forwards a dirty joke. When Lincoln comes across Beth's and Jennifer's messages, he knows he should turn them in. But he can't help being entertained-and captivated-by their stories. By the time Lincoln realizes he's falling for Beth, it's way too late to introduce himself. What would he say . . . ?" -Goodreads
Rating: B+
Review: Rowell has this amazing talent of creating the most real characters you will ever come across. They appear in all of her books and Attachments is no exception. Through someone else's eyes, you really see first hand how different everyone thinks and how beautiful that is. It's heartfelt and light-hearted but still shows the rawness of human emotion.
---
Daughter of Smoke and Bone by Laini Taylor
Summary: "Around the world, black hand prints are appearing on doorways, scorched there by winged strangers who have crept through a slit in the sky. In a dark and dusty shop, a devil's supply of human teeth grows dangerously low. And in the tangled lanes of Prague, a young art student is about to be caught up in a brutal otherwordly war. Meet Karou. She fills her sketchbooks with monsters that may or may not be real, she's prone to disappearing on mysterious "errands", she speaks many languages – not all of them human – and her bright blue hair actually grows out of her head that color. Who is she? That is the question that haunts her, and she's about to find out. When beautiful, haunted Akiva fixes fiery eyes on her in an alley in Marrakesh, the result is blood and starlight, secrets unveiled and a star-crossed love whose roots drink deep of a violent past. But will Karou live to regret learning the truth about herself?" -Goodreads
Rating: A
Review: This book is extremely high fantasy, but getting past the world building is so worth it. Taylor created a fantastic world of monsters and dreams that consistently leaves you wondering "what more?" The entire concept is so well crafted and beautifully written that I could not put the book down.
About the Writer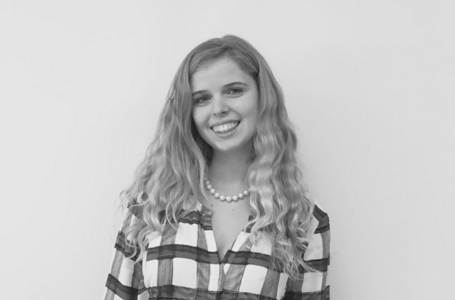 Frances Mackinnon, Editor-in-Chief
Frances Mackinnon is a senior and this is her fourth year on staff. She is so excited to be apart of this amazing team, and is pumped for what's in store...