This ain't your mama's llama: Wisconsin Alpaca & Fiber Fest
A memorable event with an equally as unforgettable smell.
On Saturday, April 29 and Sunday, April 30 the Washington County fair-grounds hosted the fourth annual Wisconsin Alpaca and Fiber Fest.
The jam-packed festival included fiber vendors, knitting and spinning classes and over 300 alpacas. "The festival was a great mixture of fun, fur and friends! I would definitely recommend it to any animal lover," Lexi Lipkowitz, senior, said.
However, the festival was all not all fun and games, as breeders went head to head in the day's main event: the halter show. Amanda VandenBosch, Senior AOA Halter and Fleece Judge and Alpaca Judge Trainer and Instructor, judged this particular competition. VandenBosch "qualified as an International Alpaca Judge trained in Peru at the International Alpaca Judging School (IAJS )" and "has judged shows in the United States, Canada, United Kingdom, New Zealand, Australia, Germany, Switzerland, Sweden and Peru," according to the Alpaca Owners Association.
The competition's purpose is "to compare animals, judging them against soundness, conformation and fiber criteria so as to determine those who are best suited for breeding purposes," according to Mary Reed, ALSA senior Alpaca Halter and Fleece Judge.
"It was really funny watching the halter show because in my opinion, they all looked the same," Talia Gottlieb, senior, said.
In fact, alpaca fiber comes in 22 colors and blends and is used by the textile industry. The fiber, often compared to cashmere, is sought after due to its soft texture, lightness and lack of lanolin, making it hypoallergenic. Their fur is used for an abundance of products, ranging from rugs to toys to sweaters.
"Alpacas are my favorite animal, so it was super fun to see everyone else as excited about them as I was," Molly Plamann, sophomore, said.
All in all, the event was an extremely unique experience, showcasing one of the world's most curious animals: the alpaca.
About the Contributor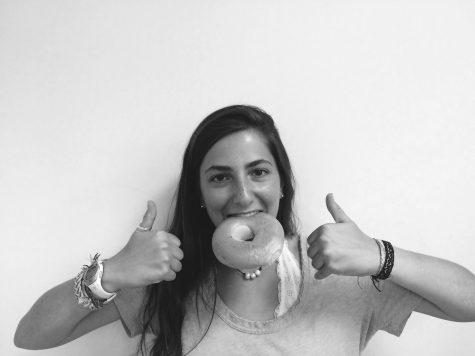 Carly Rubin, Editor-in-Chief
Carly Rubin, senior, loves Highlander Publications and can't wait for her third and final year in the class. When she is not taking pictures or writing...