A call for activism
Recent school violence sparks student voice movement
Hang on for a minute...we're trying to find some more stories you might like.
A gunman opened fire on Wednesday, Feb. 14, in Parkland, Florida at Marjory Stoneman Douglas High School killing 17 and injuring 14 others. According to NBC News, the sole gunman, Nikolas Cruz, was taken into police custody off campus an hour after the attack.
"I'm going to be a professional school shooter," Cruz said on a comment he posted on YouTube. The FBI was alerted after Ben Bennight flagged the comment and left a voicemail for the local FBI field, informing them of the comment.
An anonymous student came forward about his knowledge on Cruz after the shooting. "A lot of people were saying that it would be him. They would say he would be the one to shoot up the school. Everyone predicted it," the student told WFOR-TV.
This event has become the eighth worst modern massacre in the country. This shooting is just one example of violence in a learning environment that has occured recently in the country. According to Everytownresearch.org, since 2013 there have been about 300 school shootings in America, which is an average of one a week.
National school walkouts have been organized by the victims and students of the recent Parkland shooting. Teachers and higher school officials all around the country have been vocalizing their opinions and statements of the practice of their first amendment rights during the school day.
Superintendent Matthew Joynt, wrote a letter to all Homestead students' parents to alert them of the walkout that will be optional and taking place on the March 14. "We recognize that time in class is critically important. In preparation for this potential student walkout, we must balance the importance of instructional time with the rights of students to express themselves through protest under the First Amendment," Joynt said.
Gabriele Ladikaite, junior, voiced her opinion on the topic. "Homestead's stance on the issue is very open minded and I believe their tolerance on different views and opinions is amazing, and I support their decision with letting us uphold our First Amendment rights." Although Ladikaite sees the advantages, she is also aware of the possible disadvantages."But, although my heart grieves for all in Parkland, there is a huge safety concern involved with possibly hundreds of students standing in a open parking lot. This could possibly increase the amount of people we would have to grieve for, this time a little close to home. I think there are better way to express our opinions other than walking out during class."
Katie Reilly from Time.com reported information on this topic as well. "After the Parkland shooting, Republican lawmakers in Wisconsin, Alabama and North Carolina have proposed arming teachers or permitting people to carry concealed weapons in schools," Reilly said.
Teachers in the states that are considering this law have voiced their strong opinions on the topic. "I think teachers having guns is a very bad idea. All teachers I know have the mentality to help students. If there is a shooter and if the teacher had a concealed carry, would say 'Put down your gun, I don't want to hurt you, put down your gun,' and that would result in the teacher being shot. The person who is the most ruthless will win and that is the shooter," Mr. James Engle, social studies teacher, said.
The displeasure amongst teachers has led to a trending hashtag, #ArmMeWith, being used to voice their opinions. The educators are asking for things such as full time social workers and counselors to be able to help their students in their personal lives to possibly prevent a shooting from occuring again.
Evie Blad from edweek.org elaborated on the other side of the story. "Pro-gun groups argue that those restrictions make schools more vulnerable. Would-be shooters, they argue, know that they are less likely to be confronted by armed individuals." Blad also mentioned another solution some are saying would work. "And there are some educators who favor having armed staff in their schools in hopes of preventing another tragic shooting," Blad said.
Ladkaite spoke of her opinion on this heavily debated issue also."Allowing teachers to possess guns not only puts stress on the students, but also the faculty. Personally I would not feel safe with certain faculty members possessing firearms at school." Ladikaite said. She then explained another solution that has been nationally talked about. "I believe it would be best for the entire school to have armed and trained law enforcement that would be equipped to handle a shooting situation in the building," she said.
Certain teachers have been taking shooting lessons and gun safety classes to receive their concealed carry permit. Kasey Hansen, special education teacher at a school in Ohio explained her motivation and decision to work toward her permit. "I did not go into teaching thinking about a shooting in my school," Hansen said. "But holing up inside a classroom and hoping the shooter doesn't see you didn't seem like a good idea. So I decided to take a class to get a concealed carry permit."
Superintendent of Public Instruction of Wisconsin Tony Evers is against teachers with guns and in support of gun control, following the massacres in Las Vegas and Florida. "It's important to have the prevent measures, but the fact of the matter is if we don't do something as a country around this issue of guns, we're going to be seeing another massacre every month," Evers told the Baraboo News Republic. "It should not be a NRA/hunter vs. anti-gun people issue. It should be how in the hell can we figure out how to keep these guns out of the hands of people?"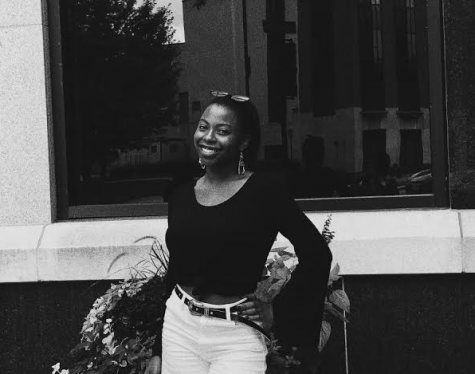 India Wilkerson, Staffer
Hi I am India Wilkerson a current senior here at Homestead High School. I love to be social and always stay busy. I am apart of the gymnastics team and...