Why Now?
Women stand up against sexual assault
Hang on for a minute...we're trying to find some more stories you might like.
We are told from a very young age that we are all different. Different hair, skin tones, backgrounds, family history and different life experiences. Finally, women all over the world are coming together to share  their similar experiences of being sexually assaulted by strong powerful men.
These women are exposing men who offer career opportunities for sexual favors. Women around the world are joining the #MeToo movement to speak out about sexual assault and share their stories.
Some wonder why these women have felt ashamed for wanting to speak up in the past and are now suddenly sharing their stories. Whether it be the result of recent allegations, or because they see other women doing the same, there is no doubt that women are banding together to become a strong force. "Men have to realize the words and the actions they choose, have an impact on somebody," Mrs. Susan Godfrey, physical education teacher at Homestead, said. She believes that women are becoming more confident in our society today. "When one person has the courage to stand up, it gives other women with similar experiences to stand up and realize that it is ok," Godfrey added.
Tarana Burke started the #MeToo trend back in October of 2006, after advocating for other women who had been assaulted and never had the space to share their own stories. After being featured in TIME magazine (the Silence Breakers issue from 2017), thousands of women took to social media to begin to share their experiences with being sexually assaulted.
"The hashtag that represents the social cause went viral in 2017 when Alyssa Milano used it in support of friend Rose McGowan's allegations of sexual harassment against Harvey Weinstein," Stephanie Zacharek author of TIME article "Silence Breakers" said.
Ashley Judd, an actress in Hollywood, explained her encounters with Harvey Weinstein, (a popularly alleged assaulter/ producer): "I started talking about Harvey the minute that it happened," Judd said in an interview with TIME. "Literally, I exited that hotel room at the Peninsula Hotel in 1997 and came straight downstairs to the lobby, where my dad was waiting for me, because he happened to be in Los Angeles from Kentucky, visiting me on the set. And he could tell by my face—to use his words—that something devastating had happened to me. I told him. I told everyone," she said in her TIME magazine interview.
Women have had enough with men who believe they are more powerful and can use career opportunities as an incentive for sex. They have had enough with feeling scared to speak out against these men. They have had it with dealing with repercussions of telling the truth.
In the podcast titled, "Why Now" by Hidden Brain, they bring to light multiple allegations of sexual assault in Hollywood. "Since 1991, we have been raising children — daughters in particular — with the understanding that sexual harassment is illegal, shouldn't be tolerated, and that it's wrong," Maya Emansons said. Emansons was bribed with the possibility of parts in productions for sexual favors from screenwriter, Israel Horovitz. "We essentially raise boys in a culture that asks them to disconnect from their core humanity, which is their desire for relationships and all sorts of things the boys articulate that they want," Niobe Way said in an interview for The New Yorker.
"Social media has become a platform for these women to share their stories. To reach and empower other women to stand up and share their own stories. It gives them an area to openly speak about it," Godfrey said. Women around the world have used social media platforms to share their #MeToo movement.
In a more familiar setting, one of Homestead's own students has shared a #MeToo experience. Isabella Scaffidi, senior, decided to come forward and share her experience about a month ago, "I really enjoyed his photography, I thought he was extremely talented from a young age. I messaged him a few years ago telling him how much I enjoyed his work. He told me that if I was ever out in the LA area, he was open to shooting with me," she said. She had been talking about taking pictures with  with him for years, and finally her opportunity came.
When she went to Los Angeles for modeling last summer, she was eager to meet him. "He began messaging me constantly with provocative messages and racy images of himself. I had finally agreed to get ice cream with him. He insisted on paying for me and soon began trying to hold my hand and touch my leg on the car ride home," Scaffidi said. She became very uncomfortable and kept moving away as these inappropriate actions continued. "On my last day in LA, he found my location on snap map and offered to drive me to the airport. I was freaked out and snuck out the backdoor to have my best friend drive me, I was extremely uncomfortable," she said. A few months passed and he continued to send her odd, irregular messages,  and she ignored them.
"Going through Instagram one day, I saw one of my friends posting messages with this photographer, sharing a very similar experience as me. I immediately posted my story online for everyone to see too. After that, some of my other friends posted explaining what they had gone through with this photographer, some worse than my experience," Scaffidi said. She felt sharing the story was truly a relief and she grew confident in herself when she realized she wasn't alone. "He has no perception of his boundaries and no respect and has had so many allegations against him. What he did definitely wasn't okay, as he did it to so many other people. I'm glad I said something, a ton of people reached out to me. It felt extremely good to get it off my chest and it made me feel better because so many other people shared this experience," Scaffidi said.
Scaffidi, along with many other models and photographers, have joined the #MeToo movement."Putting an end to these peoples careers who continue to do this is the ultimate goal. If we continue to speak out about this we will create a revolution on how we view women in today's society," Scaffidi believes.
Women are fed up with watching nothing happen and are becoming more and more brave in standing up for themselves. These silence breakers have created a revolution. They have empowered other women to stand up for themselves and are now becoming a force to fear.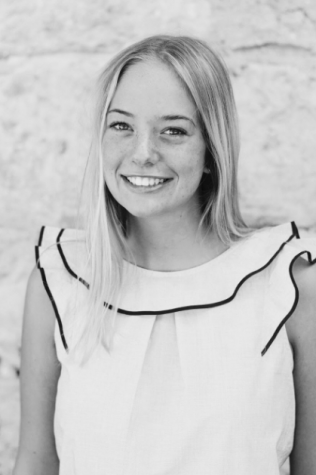 Grace Magee, Staffer
Grace Magee, a Homestead High School senior, is excited to further her love for writing in this course. When she isn't in school, Grace enjoys being active,...