Q&A With Emma Como: Aspiring Author
Hang on for a minute...we're trying to find some more stories you might like.
Provide a brief summary of your book series.
The story starts with the burning of the Library of Alexandria, where we lost the knowledge on how to travel between dimensions and universes. The series is then focused a few hundred years into our future (about the year 2800) and is told from the view of five different characters. Each from a different world. As the dimensions become more entangled politically, economically, and socially these characters are drawn together. Together they slowly begin to piece together the lies fed to them from past and current generations. Each personal view affects these truths coming to light as they must decide how to handle, or ignore them to continue living. Even as lines between good and bad become even more blurred.
What genre is your series in and how many books will be in the series?
My book(s) are a mix of fantasy and science fiction in the young adult area. There will be around six books in the series, if I can control my writing.
How did you come up with the idea for your novels/what inspired you?
Freshman year we had to write a short story in English class and mine ended up being 20 pages. The only reason I ended it was because I was already past the deadline and needed a grade. I just continued it in my free time until it spiraled into a book. I read a lot so as I read more and more novels I kept thinking but what if this happened, what if the world was like this, and eventually just created my own universe out of ideas that I wanted to see in books. If nobody else was going to write it I might as well.
When did you first start writing and how far are you in the process?
I started it during freshman year, and am seriously editing the first novels manuscript. On the side I have created some very rough drafts for the next four novels in the series.
Explain the actual writing process.
I always start with a plan. You have to plan out what the whole series will look like first. How it will start, important points throughout the novels, and of course the climax. Then I seperate that into smaller plans, what happens in each novel. What happens to each character. Then I go from there. If I have a strong solid plan that I like then writing the whole book may take a few days depending on my schedule. If i find things aren't working, maybe I notice that one of my characters would never do this one thing, the plan changes and I either hit a wall or can write through it. It really depends on the plan.
What made you decide to start writing these novels?
I didn't want to stop writing that short story. I realized that it was meant to be short, that more needed to happen. It felt like this whole book was just inside my head begging to be put on paper. So I just let it flow, the first draft was basically an unorganized word vomit that needed a lot of work.
Explain the editing/publishing status of your series. 
I first decided to randomly submit a very rough draft to publishing companies I had heard of and had books from. I then learned that in order to be published I needed to have an agent to represent me. Some publishing companies got back to me with agencies to contact. Which I did. Then they represent you to publishing companies as they change what submission types they are looking for constantly. Some days they want Young Adult fiction, some days they want Adult Nonfiction. It is a very long and complicated process.
Do you have any writing plans after completing this series?
I have more ideas for this series, I have plans that it will be like a series within a series. So the story just expands backwards and forward. A bigger picture. I also have some ideas on separate new stories to be told.
Do you plan to pursue a career in writing after high school?
Yes, I want to study English Literature and Writing in college, and pursue a career in publishing.
What do you enjoy about writing novels/what have you learned in the process?
You get to create this world of your own. You can put whoever you want in it, make it however you want. It's nice having the creative freedom to be able to just have words create such a bigger thing. Writing teaches you a lot about yourself. It really shows you how you see the world, and how you maybe want the world to change. Don't expect the first draft to be a masterpiece because it won't be. At all, just breathe some life into it and keep going
Any advice to aspiring writers?
Plan it out, what's going to happen, how will you get to that point, what's the problem. Answer those questions. Create your character(s). Then just get it all out. Word vomit your ideas onto paper. You can fix it and edit it to your liking later. Once you get it out it becomes easier to manage. It becomes a tangible thing you can see.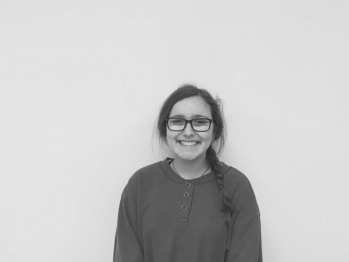 Talia Eiseman, Staffer
Talia Eiseman is a junior who spends most of her time at her dance studio, or at the JCC participating in BBYO events for her Jewish youth group. When...