Alumnus appears in episode of 'The Bachelorette'
2009 graduate shares his experience on hit show
It starts with 28 contestants and ends with one rose. The Bachelor/Bachelorette franchise has quickly become a cultural phenomena since its debut in 2004. So when Homestead alumnus Darius Feaster, Class of 2009, appeared on last Monday's premiere episode of season 14 of The Bachelorette, people in Mequon were excited to see a familiar face and a guy with "a good heart," according to Mr. Steve Manor, math teacher.
Feaster attended Homestead High School and was an outside linebacker for the Highlanders varsity football team. He attended The University of Wisconsin Madison on a four-year academic scholarship and then decided to walk on to the Badger football team. He now resides in Southern California.
Feaster's journey to The Bachelorette was a long one, with multiple different interviews and checks. He began his casting process when he met an agent from the Bachelorette. "So she says, 'I'm a casting agent for The Bachelor/The Bachelorette' … She immediately begins asking me about my personal life, what do I do for fun, what I do for work, how old I am, and asked if I've ever been on TV or wanted to. I told her I really only came [to LA] to work. And she said, 'Well you seem pretty cool. Would you mind answering a few questions that I email to you?'" Feaster comments on in an interview. From then, he continued to be contacted and eventually ended up stepping out of the limo to meet the bachelorette, Becca Kufrin.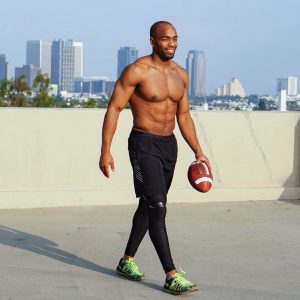 Although Feaster's time on the Bachelorette was short lived, his experience was eventful. During his one-on-one time with bachelorette Becca he mixed things up with a poem.
So the time is finally here, although its for a few minutes
These aren't just words on paper, I put my real feelings in it
After all you've been through, you still have love to give,
That's a testament to your strength, cuz there's more life to live,
I'm like a crayon- may not be the favorite you saw,
But someday, you want me, to complete you draw
I'll promise to be honest, I wont promise I'll be perfect
I'll promise to try my hardest, regardless cuz you deserve it.
To be the man who makes you laugh, and whose shoulder you can dream on,
And if you cry, I'll be that guy, whose shoulder you can lean on,
If I end up free-falling, don't give me a chute,
Instead; bury my ass in my sky diving suit
I know that's a little dramatic, so I'll be more optimistic
Opportunities like you are rare, and I'll be damned if I miss it
I'll show you sincerity, clarity, and I'll be real from the start.
I'm not here for a rose, I am here for your heart
So I hope there's more time, to stimulate your brain more,
I'm gonna keep taking shots, cuz you are def something to aim for
"For my one-on-one time, I thought that because she had a background in writing, as did I, I would write her a poem—nothing corny, or too serious, but I just choose a commonality we shared. I didn't want to talk about anything too surface-level (being an athlete like everyone else, loving my family, volunteer work, both being from Minnesota, etc.)," Feaster said.
Mr. Fritz Rauch who coached Feaster in his 2007 and 2008 football seasons at Homestead, fondly remembers a poem Feaster wrote for him called "Ode to Rauch." "It wasn't a rose, but it meant a lot when he gave me the poem at the football banquet."
"In all seriousness, Darius is a great young man who I am proud to have worked with. When I heard Darius was going to make an appearance on a reality show, I had to break my aversion to reality TV to tune in."
While the audience witnessed plenty of drama on TV, there is still a lot that isn't aired. "I do a lot of fun things, I'm a good time, I'm a pretty real person, and (this is all my opinion) I think part of the reason I didn't stay on the show longer is because I didn't cause enough drama," Feaster said about his time on the show. And when asked if he would do it again, he said " I don't know. I've been asked to participate in some other stuff, and I'm not too sure if I want to participate in it. I'll have to think about that a little longer this time. I guess we'll find out."
Below are Feaster's responses to some of the most frequently asked questions about his experience.
1. Yes, I know who wins, and I know what happens throughout the show. Will I tell you? No.
2. ABC has the right to show/not show anything they want. I had about four interviews, a one-on-one plenty of convos with the guys, and even a "day in the life" segment – none of which aired.
3. No, it's not filmed live. It's been done for months.
4. That night was longer than you expect. The first limo pulls up around 11 p.m. The ose ceremony isn't until 6:30 a.m.
5. Yes, I'm still friends with a good amount of the guys, so don't reach out to me asking for gossip. Although they are all very different than me, I respect all the guys on the show, exposing yourself like that on National TV is not something everyone has the guts to do!
6. Yes, it was freezing outside..
7. No, I didn't quit my job. I was actually laid off the same day they called and asked me to be on it.
8. Am I sad? Did she break my heart? Stop it..😂😂