Principal Bowers rolls into the 2018-2019 school year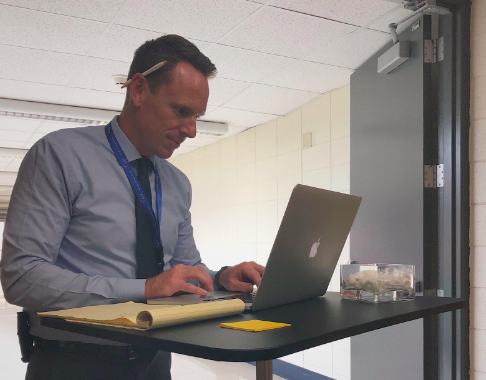 Principal Brett Bowers recently acquired a new standing desk that now allows him to roll around Homestead. "Not every day gives me the chance to interact as I would like, so this gives me a chance to," Bowers said.
At this mobile desk, he catches up on emails and interacts with the rush of students in the halls between classes or before and after school. "He's there every morning. '30 seconds! 30 seconds!'" Jayci Sheff, senior said, referencing his everyday encouragements for students to get to class on time.
Bowers' entire career has been within education, working as a principal, an assistant principal, and a teacher at multiple schools within the Milwaukee area. Because of this prior experience, he knows the perspective of a teacher and how to incorporate their views and opinions. "Mr. Bowers absolutely includes the staff in his decision-making. As a leader, not everyone is going to like every one of his decisions, but he reaches out to the staff to make sure he can figure out the best path for the school," Steven Manor, math teacher, said.
"The reason I do this job is because I like you all, I like working with you, I like hanging out with you," Bowers said. Bowers' dedication to the school is perfectly illustrated with the rolling desk. "I did it just to be present more… I like running into students and running into staff," Bowers said.
Most of the students laugh or smile when they see him with his new desk. "That desk was the best way of showing who Mr. Bowers is… a busy guy, always in and out of meetings, but a smile is always on his face and he always seems to enjoy himself here," Lily Norman, senior, said.