School security updates continue at Homestead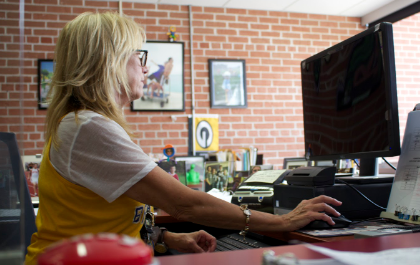 Hang on for a minute...we're trying to find some more stories you might like.
Homestead has strengthened its line of defense for the 2018-19 school year.."In the district about $7600 has been spent on safety improvements across our schools," Principal Brett Bowers said. Some additional security cameras have been installed and the entire district now has a state of the art handheld radio system. "If we were in a crisis situation, our ability to communicate with each other as administrators is really important," Bowers said.
According to Bowers, all employees in the entire school district completed new security preparedness training as well as response training. Staff completed online training about threat assessment, including how to look and listen for a struggling person,or someone in need of support who could be on a path to destructive behavior. The training  that took place in the last week of August also covered how to intervene to help students maintain safety and health both physically and mentally.
"Safety of the students is the number one priority," Ms. Linda Winters, front desk security receptionist, said. In addition to more cameras, there are now two sets of locked doors and an intercom system outside of the main entrance of the school. These new security measures give Winters more time to make a security based assessment of any person who wishes to enter after 7:25 a.m.
During the training "[staff] learned about some of the best practices around how we should respond in the event that there is a crisis in our school, and we want to make sure [students] have the same information as well," Bowers said.
In order to pass along this knowledge to students, school-wide lockdown drills will take place once every trimester during the first period of that day. During the twenty minute drill, teachers will provide students with safety information, and practice what would occur during an actual lockdown.
"These are scary situations, and young minds react differently to traumatic events," Mrs. Molly Navarre , school counselor, said. "Be supportive of others, be kind to people, and do your best to be prepared and aware."
Bowers said that in his time as principal he has never feared for his safety in his whole career at Homestead.
Most students feel safe at Homestead as well.  "I think the safety at our school has definitely taken a turn for the better since we were freshmen. The staff at Homestead really does their best to watch out for our safety and well being, whether it be the policy to not open any door for anyone outside after school has started or even the counseling office and their help and support, " Mykayla Thimm, senior, said.