Gap Year Update: The path less traveled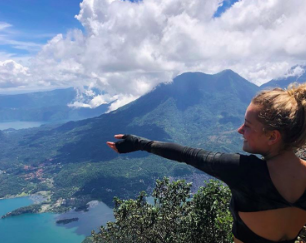 Hang on for a minute...we're trying to find some more stories you might like.
Inhale, exhale.
Repeat.
Savanna Campagna, yoga instructor and Homestead class of 2018 graduate, is currently in Costa Rica traveling, exploring diverse cultures and traditions and meeting incredible people from all over the globe.
While most college freshmen are knee-deep in schoolwork, cramming before midterms and stressing about five-page papers that are seemingly assigned and due within a 24-hour period, those who decide to stray from the path most commonly traveled are experiencing much more than lectures and assignments.
Savanna is among one of eight students to take a gap year since 2016 at Homestead.  She wasn't set on what she would major in if she attended college after leaving Homestead, so she decided taking a gap year would aid in deciding her major.
" I am seeing what life's really all about and living out my youth before deciding what I want to do with my life," Campagna said.
"I think there's a lot of value having a little bit of time set aside to decide," Counselor Danielle Young, said. Taking time to find one's true passions and interests makes choosing a major and a college more solid since many freshmen are undecided or change their major).
"Kids our age are so rushed into life all the time and are kind of stuck in a rat race. It's really nice to just take some time to relax and reflect, and do some things I wouldn't be able to do if I just went to school ," Campagna, said.
Rigorous  colleges tend to value a gap year. "They feel like students have time to access what they want, rather than making snap decisions at the end of junior year and the start of senior year," Young said.
Students who take gap years learn life skills, values and allow an opportunity for the experience of a lifetime.
For students planning to take a gap year, Savanna's advice is to plan lightly because your plans might change,; just be flexible and open to new ideas.
According the the UNC Chapel HIll website, "Gap year graduates over-perform with their postsecondary academics by as much as 0.45 on their GPA, with benefits that endure throughout their undergraduate careers."
"It's honestly been such an amazing experience," Campagna said, proving that for some, the path less traveled is the path to travel.