Mueller shares recipe for success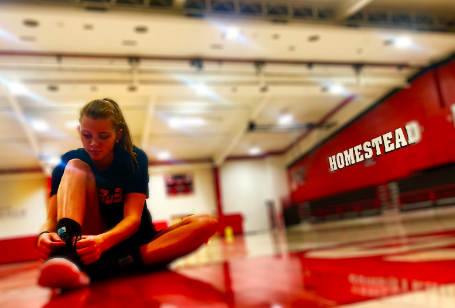 Hang on for a minute...we're trying to find some more stories you might like.
Determination.
Leadership.
Strength.
While people may not know what goes into being a star athlete with above average grades, Grace Mueller, junior, shows that you can do it all if you set your mind to it.
Question: What sports to do play at Homestead and what impact do you make on the team?
Response: "During the 2018-2019 season, I participate in Basketball and Track. Basketball is my main sport but I do a lot out of the season to do what i can to make my team better. And then I run track at Homestead and I run the 400 and that is my main event."
Question: You said that you do things outside of the season to make the team better, what are some examples?
Reponse: "Outside of the season, I play AAU called Impact. We travel around the MidWest to and from states playing different teams for different areas. I also workout with CBA which is Chapman Basketball Academy with some of my teammates focusing on what we can do to make the most of the upcoming season. Then finally I do a lot with my team outside of the season to make sure i'm a good leader and keep that bond between the teammates. Some of these things consist of going to breakfast, movies, watching games together/ working out."
Question: On top of basketball and track, how do you balance getting good grades and staying on top of your school work?
Response: "I think using your time wisely in order to succeed motivates myself in school to concentrate. I try and get ahead of all the things I have to due that week so that I can have time during practice so I can work on my stuff but also hangout with my friends."
Question: How have you developed in your academics and sports since freshman year?
Response: "I think that coming into freshman year i didn't know what to expect, especially as a freshman on varsity that really turned around what I was trying to achieve and what my future looked like. My team is amazing and they motivate me everyday to be better so coming in as a freshman i've become more of a leader. I have become stronger in my skills, and my mindset of achieving my goals to make them achievable. Then for freshman year track I really just came in wanting to get faster and play a sport during the springtime, and then I got more competitive along the way knowing that I could make a impact on that team also. The goal is to make state this year and helping my team succeed in many different ways. For education, I've developed in a stronger way by focusing during class and my time management. Taking part in multiple different activities outside of class to better help my education. Some things are like Spanish or other different clubs going through Homestead."
Question: For basketball, you said that your future is more set and you have a lot more goals now what are some goals you have for your future?
Response: "If I continue to work on my education and being a better student I know that I can achieve what I want and personally I want to be playing basketball at a high division school and I know that I can do that through my hard work and dedication for these net two years and I could not see my life without basketball so playing in the future years is very important to me."