Freshman varsity runner shares her path of persistence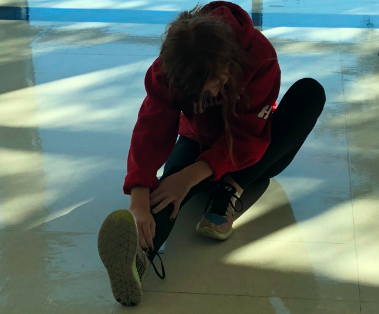 Hang on for a minute...we're trying to find some more stories you might like.
Sharp winds slap her face and whip against her cheeks. The sound of an approaching stampede of footsteps riding on her heels sound louder than bombs. They want to surpass her. They salivate at the taste of victory. So does she.
One more meter.
The view of the clearing is wide. People and trees and grass and stands all blur into a distant thought, cheering and pounding and ranting and chanting fading into a mumble, a murmur. Her singular focus is the line in front of her;the line that means crossing from sores and pains to triumph.
One more step.
Victory.
They say that you should leave your heart on the floor when you work at something you love. Though this is not a literal term, freshman Sophia King leaves behind sweat, stamina, and a herd of runners her on the field as she runs towards another first place win for herself and her team.
King began her running career three years ago when she decided to pursue sixth grade cross country. This decision stemmed from her love of soccer, which she has been participating in since a young age.
"I was not a runner as a kid, but I did do soccer," King stated. "It is truly my main sport."
Initially, King joined cross country to see if she was "capable" of doing it. "In soccer, you run up to ten miles per game," King said, "[And] you have to have the stamina to do that." When King, her coaches, and her parents began to realize that she had the potential to run in this rigorous sport, things began to kick into gear.
"[During] my first race ever I came in sixth place overall. It was my first two-mile, consistent running, competitive race," King recalled. "I stressed a lot about those meets because I was always expected to do well, [and] I have my standards pretty high with sports."
But, according to King, middle school cross country represented only a fraction of the challenges high school cross country would bring. Between two to two-and-a-half-hour long, five-day-a-week practices, and meets nearly every weekend of the school year, King felt challenged each day. And though thus far she has accomplished many great feats, including coming in first place during her first junior varsity meet, balancing running and other activities proves challenging.
"Some days are worse [than others], especially depending on how much homework I have or what classes I'm taking," King said. "If I am at practice, I know I will need to go right home [afterwards]. I can't go hang out with friends, and sometimes I will even have to skip practice for homework and to study."
Though running has not always been the easiest sport to participate in, it has most definitely been worth the sweat and sore limbs.
"Running has contributed to who I am as a person by showing that I am not afraid of anything. I love to take on challenges. I love to push myself to be better. Even if I have a bad day it shows me, 'Hey, I had a bad day, but I can fix that,'" King began. "I have gained attributes through running such as the ability to push myself… and to not be afraid to hold back… It is not even just running. [These traits] have carried out in other parts of my life [too]."
King's goals through senior year include to continue pushing herself to the best of her running abilities and to stick with the sport that she loves. And, though that heart-pounding, legs-burning feeling may sound like a painful experience to some, to King, that is just the reality of her sport.