Hungry for More: Big night on the court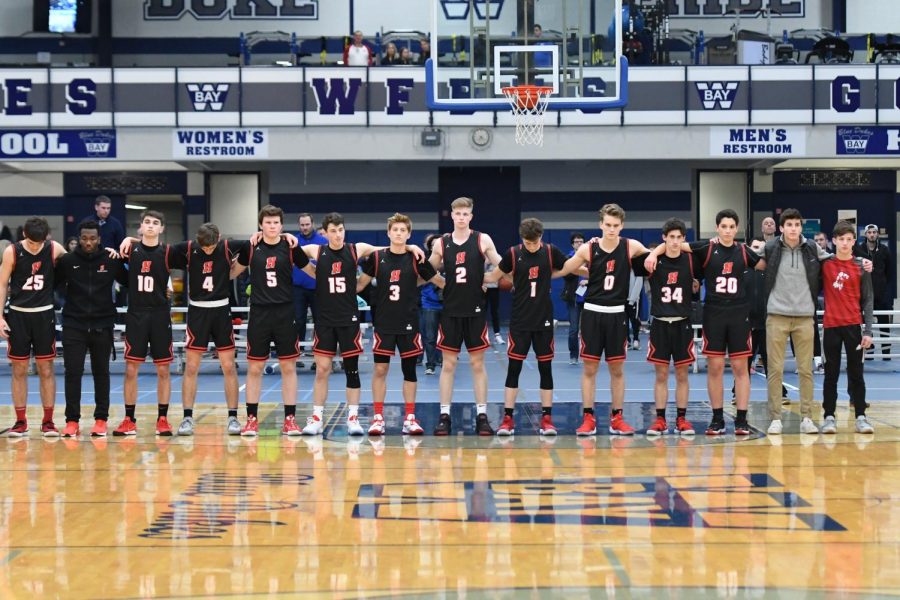 The boys varsity basketball team will be playing against conference rival, the Nicolet Knights on Tuesday, Dec. 18 at Nicolet. The event is a double header with the boys and girls varsity basketball programs from both schools playing. Tip-off for the boys game will be at 7:15, behind the girls game, which commences at 5:45.  The boys game is projected to be sold out.
The magnitude of this North Shore match up has grown bigger and bigger as both teams have found early season success.
The Highlanders are undefeated with a 5-0 conference record (7-0 non-conference). Last week, the Highlander squad won an away game against Whitefish Bay (72-62) and a game at the NY2LA Sports Classic held at Brookfield Central High School against non conference opponent, Brown Deer (79-61). Preps Hoops Wisconsin has the Highlanders ranked 5th in the state for division one basketball. Homestead is lead by Declan Ciurlik (23ppg, 6 rpg, 4apg), Ryan Waddell (18ppg, 5rpg, 5.5apg), Jacob Kleiman (11ppg, 7rpg, 3.5apg), Michael Kennedy (9ppg, 6rpg, 2apg), Ethan Endres (5ppg, 5rpg, .5apg) and Michael Morway (3ppg, 2rpg, .7apg).
Nicolet does not have a perfect record like the Highlanders, suffering their only loss in tough out of state competition in Washington D.C. The Knights have a conference record of 5-0, and an overall record of 7-1. Nicolet defeated the number one ranked division one team, Sussex Hamilton, at the NY2LA Sports Classic (78-70).  Preps Hoops Wisconsin has the Knights ranked 1st for division two basketball. Nicolet is lead by Junior guard, Jalen Johnson(20.4ppg).
Junior Point Guard, Declan Ciurlik, talks about the keys for the Highlanders success in the game against Nicolet.
"The main focuses going into tomorrow nights game are limiting them (Nicolet) to one shot per possession and controlling the tempo of the game as best we can," Ciurlik said.
To Homestead's head varsity boys basketball coach, Sean Crider, it is less about the technical gameplay and more about keeping composure.
"I think we have to be ourselves. Nicolet's team poses some challenges in terms of size that we have not faced this year. We can not try to be too different than how we have played. We have to rely on our energy and conditioning which has been a staple of the program since I took over. I think we have to continue to share the ball like we have all season. We also can not get raddled or shook by Nicolet if they go on mini-runs that get their crowd into the game. We have to stay the course and play our game. I know we are going to compete. That I can promise."
Coach Crider also said his team adapts well to adversity, and their resent found success.
"We have played well for the most parts of every game this season. But in our first road game we were down at Grafton, and we responded with a big run after halftime. We have had guys sick the whole beginning of the season and now we are starting to get healthy. Many guys have stepped up, which has been a positive response to adversity of not being full strength in terms of health. In terms of our recent success, I think we have had a quiet confidence. I think we expected to be good this season so it may be a surprise to some but we expected this. I think we have enjoyed the success but we are hungry for more. We are not satisfied with just being 7-0. We are appreciative of the support from the students and the community. I talk about not being complacent and I think the guys have bought into that. We still can be better which keeps us motivated," Crider said.  
Senior Guard Jacob Kleiman believes this team has connected very well throughout the season, and has strong team chemistry going into the game.  
"I love playing with these guys. We have grown into a family. This includes the coaches, whom I have developed strong relationships with over the last few months.  They always push us to be the best we can in practice and games. As a team, we are having a lot of fun competing everyday together, and striving to get Homestead's basketball program back to the top."
The Highlander basketball team is ready for a hard fought conference game against Nicolet, with the outcome revealing the current "Kings" of the North Shore.