Family Affair: The life of a coach's family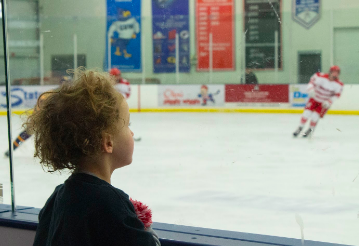 Hang on for a minute...we're trying to find some more stories you might like.
"We Interrupt this family to bring you…
The Basketball Season"
Draped above the staircase to downstairs, in the middle of the house, hang these words. Pictured in a black frame with bolded letters and a loud font, these 12 words describe Steve O'Brien's life, basketball and golf coach, along with every other high school coach's life.
Coaching a high school sport requires an immense amount of time, dedication and patience, not only for the coach, but also for the family.
Going to all the games, attending a few practices, building relationships with the players and having an undeniable love for the mighty Highlanders comes with having a coach in the family.
The Zortmans
The O'Briens
The Navarres
None of these names are unfamiliar to any Homestead student or athlete. Although, the story behind their support systems might be.
Although she might only be a third grader, Adeline Navarre, has attended almost every Homestead Hockey game of her dad's (head coach Tony Navarre) since she can remember. The love for this sport is not something that has surprised anyone who knows the Navarre family.
The youth organization hockey team, Ozaukee Ice Dogs, had a few players skate out for the National Anthem on the Jan. 5 varsity game, accompanied with some of Homestead's players. Of course Adeline just had to be a part of this. As she skated onto the rink adjacent to Pierce Stastney, senior captain, her honey-colored curls spilling out the bottom of her helmet, Adeline has never seemed happier.  
To put it in simple terms, she loves the boys, especially Pierce.
Watching on the sidelines of almost every varsity football game was Lee Zortman. Amidst the cool fall air and the nighttime excitement for the players stands Lee, watching the team he so wishfully hopes to play on when he is older. A few players joke with him on the sidelines, playing childish games and just talking with him.
They take him under their wing. He now says 'hi' to the players at basketball games or whenever he sees them around town, but most importantly, he now plays Fortnite with a few of them.
Jen Zortman's views on her husband being a coach are nothing but respect and love. The children love to watch their dad coach, work with the students, and as a result, the children already have a connection with Homestead.
"They walk around and very proudly wear their Homestead clothes,"  Mrs. Zortman said.
Coaching involves a lot of pressure, late nights, long days and a constant busy schedule.
"It was hard when they were younger, and he wasn't there. They would cry and then I would cry," Cathy O'Brien jokes. "But it got better. They got older and it become completely awesome," O'Brien added.
When O'Brien's children begin attending Homestead, they felt it made the transition into high school easier.
"It was great seeing familiar faces in the hallway. Helped me feel more comfortable," Amelia O'Brien, freshman, said.
Mrs. O'Brien is not the only spouse to understand the challenges that come with having a coach in the framily. "As much as I love it, it's hard having a husband who is away a lot. Although I wouldn't have it any other way. It's our lives; it's everything my kids know," Molly Navarre, spouse of coach Tony Navarre, said.
Coaching a high school sports requires support. Being a parent also requires support. Without their families, these coaches agree they would not be able to be the coaches they are today.