Continuing her passion for basketball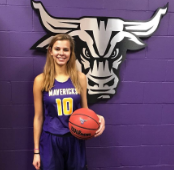 Hang on for a minute...we're trying to find some more stories you might like.
Eight long years of playing basketball day in and day out isn't stopping after high school for Grace Mueller, junior. On Dec. 22, 2018, Mueller made her decision to verbally commit to Minnesota State University, Mankato. "I am super excited to play at Minnesota state and feel like I made the right choice. My family fully supported my decision and was happy that I could find such a great school," Mueller said.
"I've been playing basketball since third grade and I've had a strong passion for the sport ever since I was a kid," Mueller added. Not only did she play on her schools' teams throughout elementary, middle and high school, but she also participated on an AAU team outside of the school world.
When asked how she stays so motivated year round, Mueller said, "My coaches motivate me to work the hardest and push me to be the best I can be. Being on varsity [at Homestead] helped me grow as a person because I learned how to be a leader," Mueller said.
Her teammates like Tori Brandenburg, junior, view her as a leader as well. "Grace is a leader on and off the court and holds herself accountable, teaching everyone that it's not the mistakes you make, but what you learn from them," Brandenburg said. "Grace is the hardest working person I know, and she always sets goals for herself and the team," Brandenburg stated. When asked how she felt about Grace committing to Mankato so early, Brandenburg said, "I'm beyond proud of grace for committing to Mankato and I'm so incredibly happy that she found a school that perfectly fits all of her expectations while allowing her to play the sport she loves most."
But her teammates aren't the only ones who have watched her improve over the years. Grace's mom, Heidi Mueller, has watched her from the beginning of her basketball journey. Since third grade, her mom has watched Grace from the bleachers at thousands of games, improving more each game. "Grace has always been a pretty good shooter but now her defense has gotten better and in that she creates turnovers, blocks shots and makes it difficult for the opposition to score," Ms. Mueller said.
She also supported Grace in her decision to play basketball at Mankato. "I was very excited for Grace when she verbally committed to Mankato because I think she felt comfortable there when she went to visit, and I think she can contribute a lot to the team," Mueller's mom said. Overall, her mom has seen a change in Grace over the years. Ms. Mueller said, "Grace is a well-rounded athlete who works really hard in the gym and in the weight room, she has great endurance on the court and has gotten stronger as a basketball player."