Women of Homestead lead the way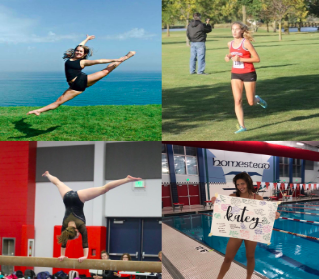 Hang on for a minute...we're trying to find some more stories you might like.
Encouraging
Responsible
Positive
Selfless
All ways in which four young women at Homestead High School are described as leaders.
Lindsey Miller, captain of the girls cross country team, defined a leader as, "Being able to acknowledge how to put others needs before yourself. It's about having others to count on you and you being there to guide them along the way. It's about being the person that, in the end, makes them better people."
Abi Check, Lindsey Miller, Olivia Rossman and Katey Van Vooren, all apart of the Homestead graduating Class of 2019, have been participants in Homestead athletics for the past four years. Each of them earned the title of team captain for their final year in a Highlander uniform. "Although being a captain is sometimes stressful, it's truly an honor to be a captain for the team," Van Vooren said.
Van Vooren, captain of the girls swim team at Homestead, has been an avid athlete throughout her high school career. Besides swimming, she participates on both the gymnastics team, and the girls track and field team. "I like being a part of sports at Homestead because it gives me an opportunity to make new friends. It's encouraged me to try my best and to be a good influence for other people," Van Vooren said.
"I think that being captain has really taught me that there are a lot of sides to anything that's going on so while you might see something only as it applies to you, you have to realize that everybody has a different opinion and a different perspective," Rossman, captain of the girls golf and gymnastics team, said.
Rossman has been captain of the Homestead gymnastics team for the past two years and compared her experience from each season. "The dynamic this year is super different. We are having a really strong season and I think it's super important for me to help lead everyone in a positive direction because we have such a good chance to make it to state," Rossman said.
Earlier this year the Homestead girls cross country team attended the Smiley Meet on Sept. 15. Miller recalled the abnormally hot weather that day.
"I finished the race and jogged back to the tent and grabbed as many water bottles as I could to bring to my teammates. I ran back to the finish line and started finding my teammates to give them some water and made sure they didn't pass out from the heat," Miller said. Miller made multiple trips back and forth to get water to make sure all her teammates were all right.
All four of these young athletes have loved being captain and the responsibilities that come with it. In the words of Nelson Mandela, "It is better to lead from behind and to put others in front, especially when you celebrate victory when nice things occur. You take the front line when there is danger. Then people will appreciate your leadership."
"One piece of advice that I would give to next year's captain is to have fun with the role because it teaches you a lot about yourself and pushes you to be a better person. To learn from your team, push everyone to be the best that they can be and always support each other," Check, captain of the dance team, said.