Hard work and passion = success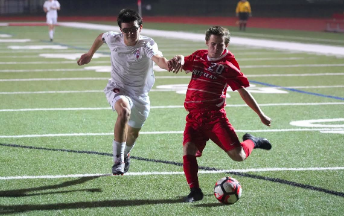 Hang on for a minute...we're trying to find some more stories you might like.
Passion for the game.
The game he was destined to play ever since he was born.
The game that drives him to succeed.
Soccer.   
His day starts with the beep of his alarm at 6:00 a.m.
School.
Soccer.
Sleep.
Repeat.
Ever since he can remember, Sam Walton has always had a ball at his feet. "When he first started walking, he always had a soccer ball. I played soccer so it was something that I liked to do and  thought he would enjoy it," Susan Walton, Sam's mom, said. The passion and drive that Sam has for soccer has only increases as he has gotten older, "over the years I have seen Sam's passion increase; I've never seen anyone as passionate about soccer as anyone about anything else," Ms. Walton said.
Through the years he has learned how to balance his school work with his soccer schedule, "I know that after school I always have a plan on what I am going to do after school, I will do homework for the first hour and the go to practice then after practice I will do the rest of my homework," Sam said.
Sam practices every day of the week during his fall and spring schedule playing for Bavarian soccer club and Homestead high school's varsity team, as well as traveling around and practices for the ODP (Olympic Development Program) team he was selected for.
One of three players in Wisconsin, Sam was selected for the ODP regional team made of of 18 players around the Midwest region. "Each US Youth Soccer Regional League is comprised of the top teams in their respective region that have earned their spot based on a proven track record of success in US Youth Soccer competitions," according to the US youth soccer website.
The dedication Sam has for soccer has only increased as he has gotten older and the drive to succeed in school has also grown adding a little bit of added stress according to Susan Walton. She has seen how he pushes himself  "he tends to be a little hard on himself when it comes to school work because he knows he wants to do well so I think that brings a little added stress but over all he does well.
Ingrained in his brain is the routine of school and soccer in order to maintain his focus. "He's been really conscientious about taking school seriously with his studies and I don't need to worry about soccer because he's just off the charts passionate about it; he knows that he needs to do his work," according to his mom.  
Sam doesn't know what's in store for soccer . He said it's "personally too early for me to say what the future holds, but I would like to go D1 for soccer in college that's the ultimate goal anything else would just be a bonus" and knows that this sport will stick with him his entire life.
"I've been playing for so long it's something that helps me cope with stress and stuff like that I just love the sport and I know that it's something that I'll stick with me forever," Walton concluded.