Walking to save lives
Gearing up for this year's Relay for Life event at Homestead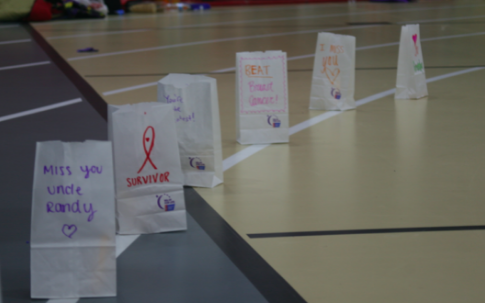 Hang on for a minute...we're trying to find some more stories you might like.
In 2018, over 18 million people across the globe were affected by various forms of cancer. Of the 18 million affected individuals, more than half of them did not survive their battle.
To this day, there is still no cure for cancer, and the number of cancer patients is rising. The National Cancer Institute predicts that the number of new cases per year will rise to 23.6 million by the year 2030.
Whether it's you, your great-grandfather, your hairdresser, or the lady who served you your lunch yesterday, the prevalence of cancer affects everyone in some way, shape or form.
Despite cancer being one of the leading causes of death worldwide, it is not fatal for everyone. "The death rate from cancer in the US has declined steadily over the past two decades. As of 2015, the cancer death rate for men and women combined had fallen 26% from its peak in 1991," according to the American Cancer Society.  
Although there is typically a negative connotation associated with cancer, the stories of survivors are uplifting and inspirational.
Tony Navarre, teacher and coach at Homestead, experienced his own battle with cancer. "It's still going on, but it was about a year long. When I found out I was diagnosed I was in shock," Navarre said.
Navarre was diagnosed with Acute Myeloid Leukemia (AML) in 2011. AML is a cancer of the blood and bone marrow and is one that progresses quickly if it is not treated. "It is the most common type of acute leukemia in adults," the National Cancer Institute said.
"I was extremely sick, and I was in a coma. It was an experience that almost doesn't seem real anymore when I look back on it. It feels like a part of my life that was fake," Navarre said.
Navarre credits his wife as his number one supporter. "She was there 24/7, seven days a week and was in charge of making sure I had the right doctors. All the school staff were amazing. I had a very large support system," Navarre said.
To raise awareness and funds for cancer research, the Mequon community and Homestead High School have been participating in a fundraiser called Relay for Life for many years. Relay for Life is a fundraising cancer walk for the American Cancer Society that began with one man who had a mission. This year's event at Homestead is scheduled for Saturday, March 23 at 6 p.m.
In May of 1985, Dr. Gordon Klatt, surgeon and cancer specialist, walked and ran around a track in Tacoma, Washington for 24 hours. 300 of his friends and family joined him and altogether they raised $27,000 from the event. Over the course of the next year Klatt assembled a committee and in the Spring of 1986, Relay for Life was born.
Relay for Life begins with pre-fundraising events to raise money well before the day of the walk. At Homestead, the winter formal dance in January and the Coaches versus Cancer hockey game in February both raised money for Relay.
On the day of the cancer walk, staff, students, families and survivors gather together. Everyone participates in the ongoing walk, a lighting ceremony and other fun community activities.
Lisa Nelson, Homestead parent and longtime member of the district, like Navarre, has survived her own battle with cancer. Nelson was diagnosed with Hodgkin's Lymphoma when she was 25 and Breast Cancer when she was 50.
Kitty Nelson, Lisa's daughter and junior at Homestead, is a huge advocate of Relay for Life and what it does for the community. "I think Relay for Life is one of the most positive events at Homestead. It's a fun way for students to get involved and spend time with their peers and raise money for such a great cause," Nelson said.
Bailey Timmer, sophomore at Homestead, participated in Relay for Life last year. "I feel like it brings people dealing with cancer closer together and provides support while also giving a really fun opportunity for people to get involved with the organization," Timmer said.
Timmer was a first-year Relay participant last year and decided to donate her hair. "I was listening to the stories from survivors and caregivers and was amazed by everything they had overcome, so I wanted to help someone in a similar situation," Timmer said.
Payton Kuenzi, junior, also decided to donate eight inches of her hair at Homestead's Relay for Life event last year. "It was a great experience for me to go out of my comfort zone, and I feel so fulfilled for donating my hair to someone in need," Kuenzi said. She plans on being a part of Relay again this year and is looking forward to the event.
Navarre has also participated in Relay for Life in the past and loves what it does for the community. "I think it's awesome. When the students that are in charge of Relay for Life do it correctly, I think its an awesome experience. When it's done well it's very powerful and impactful," Navarre said.
"It allows those people who have had cancer impact their life see another side of how many other people its touched," Navarre said.
Today, Klatt's legacy lives on through Relay for Life. The organization has held more than 5,000 events in 20 countries across the world raising over five billion dollars for the never ending fight against cancer.