A look ahead at the boys tennis season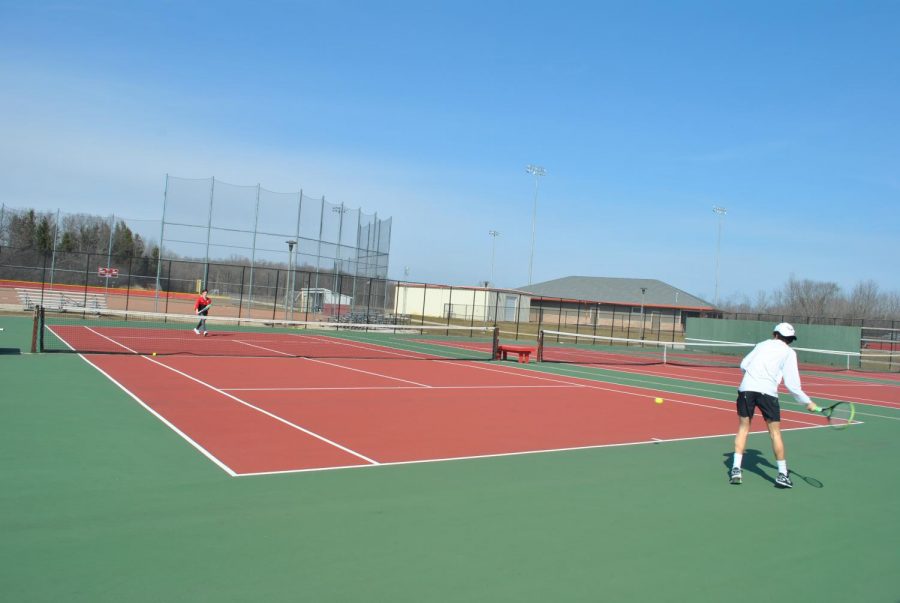 Boys tennis tryouts were held at Homestead from March 25 through March 28. Among the guys in attendance included athletes returning from last year as well as incoming freshmen and new students who moved from out of state.
As the team starts out their season, the main focus is figuring out where everyone will work best on the team in order to contribute to the overall dynamic among teammates. "It's hard to tell this early in the game; we're working on figuring out who is gonna play which position and where everyone fits on the team," assistant coach Mike Stibor said.
Going into their first tournament of the season in Madison on March 29 and 30, they were already down their number one singles player, Michael Morway, senior, who was unable to make it to the tournament that weekend. Then, on the final day, Morway's replacement, Travis Weber, sophomore, suffered a minor injury that took him out of the lineup for the rest of the weekend.
Despite these difficulties, the team managed to secure a win against Hudson High School, winning four out of the seven matches needed to win that round.
That win is in part because Homestead's team has two new seniors, Pierce Stastney and Ben Grant, on the team who hadn't previously played tennis for the school. Although they haven't played varsity tennis until this weekend, they both managed to pull in important wins for the team during the tournament.
Even with the difficulties that the team has already faced this early in the season, the team is still excited to see what will happen throughout the season and what the final lineup will end up looking like.
With every season bringing about a new batch of players as seniors graduate, the coaches never really know what to expect with the new season, but both Stibor and head coach  Jackie Mueller Egelhoff are hopeful. "Because of players graduating on the varsity level and because of new players arriving from out of state, we're hoping to get as many of the guys to state as possible," Egelhoff said.
The same sentiment is shared by sophomore Zach Sprinkmann, who played two doubles in the Madison tournament. "I'm super excited for the rest of my sophomore season. I think we have a great team this year and that we're capable of big things," Sprinkmann said.
The team isn't letting some of these tough losses get in the way of the rest of their season. "We're just excited to see how the season unfolds and to see the dynamic of this team and of all the other teams in the state," Stibor said.