Inside girls LAX bonding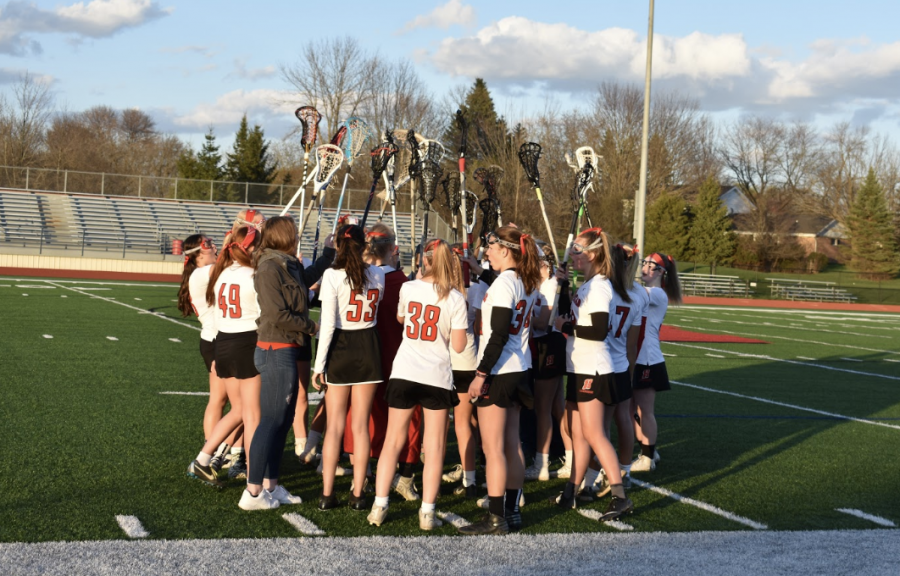 The philosophy of the Homestead girls lacrosse team is that success on the field starts off of it, and that is something that this team has taken very seriously. All throughout season, the girls have participated in many events to help bring the team closer together and to form stronger relationships with each other.
Before every single game, the girls try to have a team dinner together to hang out and prepare, but for every away game that they have, the team exchanges something that they call sister gifts. The sister gifts are little bags of treats and words of encouragement in a note that each team member is supposed to give to their assigned sister without them finding out who is giving them the gift.
Sister gifts were a way for the team to start off the season by getting to know each other so that they could give their sister their favorite snacks. "The whole idea behind sister gifts is great because they end up helping you get close to people that you might not normally talk to," Claire Baden, sophomore, said.
Another thing that the team does fairly regularly together is going to the boys games together to support their fellow highlanders and watch some more lacrosse.
One highly anticipated event that the team is planning on doing is Dare Night, which is a night when the entire team has a big team sleepover and is split up into groups. These groups will all dress alike and work together to complete dares and earn points for their team. "Dare night is definitely one night that everyone on the team looks forward to. It's just a really fun time to get to know each other and learn how to work together," Baden said.
Recently, the team went to a trampoline park as something fun to do together and ended up stopping at Kopp's for lunch. Originally, the plan was to go watch a Marquette women's lacrosse game, but it was cancelled due to snow. Still, the team is hoping to make it to another one of those Marquette games soon so that they can all watch collegiate-level lacrosse together.
This year, the three captains of the team, Bridget Brown, junior, as well as Lindsey Schimpf and Anna LaLande, seniors, have been hard at work to inspire team bonding. Their goal is to form a lasting bond between the girls so that the underclassmen will continue to do the same things after the current captains are gone.
"Since our team is so young, I'm hoping that us showing the team how to create unity will be something they can continue as they get older," Brown said.
So far, the attempts at showing the newer members of the team how to create a united team seem to be paying off. "The team dinners have helped to make me feel so included because everyone is so friendly and everyone on the team will have conversations with everyone else," Kendall Coburn, freshman, said.
Although the team bonding is important, the captains are still working together to try to find the perfect balance between bonding and keeping their full attention on lacrosse during games.
"What we're struggling with right now is how to bring everyone together but still get them to focus on the game, so that's something we're going to figure out as the season goes on," Brown said.