Get to know the football student section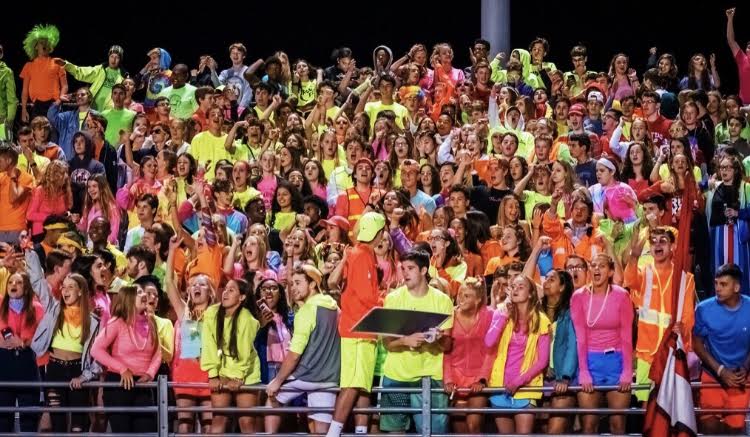 Ever wondered what its like in the Homestead High School Football Student Section? Well here you have it: unique perspectives ranging all the way from freshmen to the seniors!
Freshman: Gerardo Lujan Ramos
Q: What's it like finally being in the stands for the first time?
A: It's an awesome feeling to be there, you get to see all your friends and turn up with them. Having that support and push from seniors is funny but also great.
Q: Do you look forward to games and if so why?
A: Yes I always look forward to games. It is a great way to get rid of the regular stress that school provides. 
Q: What has been your favorite theme so far and why?
A: My favorite theme has been the blackout. I personally think it is so cool to see everyone dressed in one color and matching.
Sophomore: Chloe Monteiro 
Q: Are football games something you look forward to at the end of a long week at school,; why or why not?
A: Yes it's definitely something I look forward too, because at school we don't have much time to socialize and at the football game we do. Also it's a very energetic setting which makes it fun to be at.
Q: Describe the student leaders and what they do.
A: I think the student leaders are very good at getting the student section hyped up, they are very spirited and want to get everyone excited. They also make up really fun and funny cheers.
Junior: Ava McNarney 
Q: What is one word to describe the student section?
A:  Loud.
Q: What is the student section like as an upperclassman? 
A: The student section is so fun! It's especially fun as an upperclassman because now it feels like we are actually involved in everything. Plus I don't usually get to go to games because of cross country so it's nice to go to one every once in a while. 
Q: Is it something that you look forward to at the end of a long week of school; why or why not?
A: It's something I look forward to after the end of a school week because even though it's kind of exhausting, it's a fun way to spend Friday nights!
Senior: Lena Konradi
Q: Describe the best and craziest part of the student section
A: When all the students cheer together and turn the volume of their voices up! And then they all jump together in the same rhythm, it's just amazing! And the vibe of the football game is just crazy! 
Q: What is it like seeing American football for the first time ever?
A: It was crazy! I didn't really know what to expect when I came here. I knew that football was a big thing in the USA, especially because we don't have football at all in Germany. But the whole spirit of this student-community really catches me.
Q: What has been your favorite theme so far and why?
A: Definitely Hawaiian just because the outfits were totally crazy and it was fun to dress up for it.