Rowing: A national to local phenomenon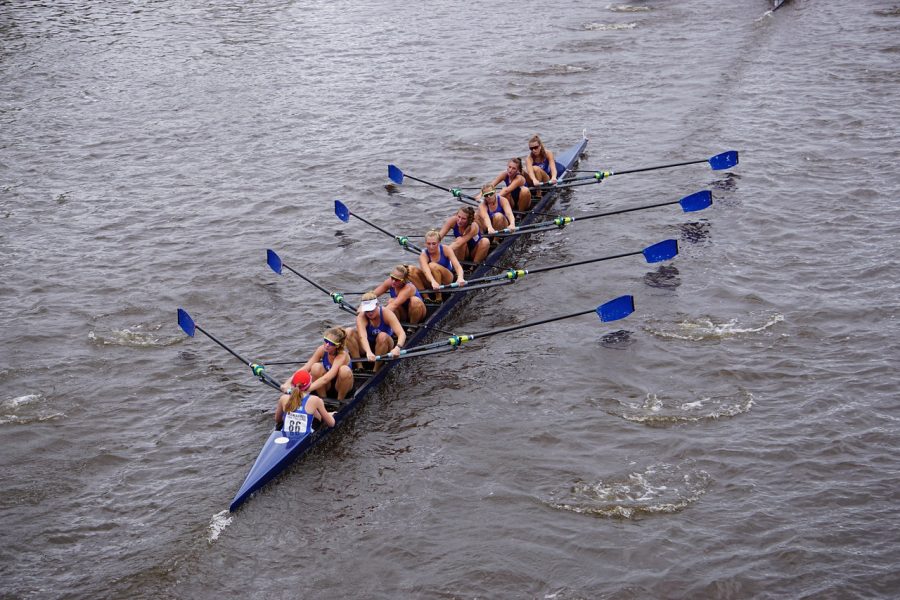 Despite rowing not offered at Homestead High School as a sport or extra-curricular, many Highlanders have become a part of the Milwaukee Rowing Club in recent years. With eight students involved in the club, this competitive sport has brought students together to test their limits. 
The Milwaukee Rowing Club includes members of all ages, with a Junior program consisting of high school and middle school student-athletes. From October 18-20, the Head of the Charles Regatta will be taking place in Boston, Mass — a national rowing meet with select athletes. 
From the athletes' point of view, rowing has brought teammates together to reach a common goal: victory, strength and friendships. 
Courtney Anderson, sophomore, describes her favorite aspects of the rowing team. "The best part is meeting people from different schools. Also, I really enjoy going on the trips for races and bonding with teammates on the long bus rides," Anderson said. 
Anderson started rowing beginning in seventh grade.  "I tried a lot of other sports, but I didn't like them. But my good friend Maddie was thinking about trying it out, so we signed up together have been doing it together ever since," Anderson said. 
Another recent member, Cate Hering, sophomore, has also recently discovered her love for the sport. "I wanted to start rowing because my older brother Alec did it, and it looked really fun," Hering said. 
Hering added that it will be her first time attending the Charles Regatta, and she is "very excited about it as it's a big deal because it's a selective race and teams from around the world compete there. Also, Milwaukee is participating in it, which is super cool too!"
Once again, another member of the Milwaukee Rowing Club found her love for the sport through a peer or sibling with a passion for it.
Ariel Leykin, senior said, "I started rowing because I was looking for a new sport to try, and my brother was doing it at the time, so I decided to try it.
Leykin added, "My favorite part of rowing is definitely the team camaraderie because in a boat, you have to push each other to each person's physical and mental limits. We have to not only pull for ourselves, but to pull for out teammates which motivates me the most because the second I feel like giving up, I know I have to keep going and not let down the other people in my boat."
Even though rowing itself is not a sport at Homestead, the students involved with the Milwaukee Rowing Club have made it a major aspect of their lives.