Davies recalls his Welsh life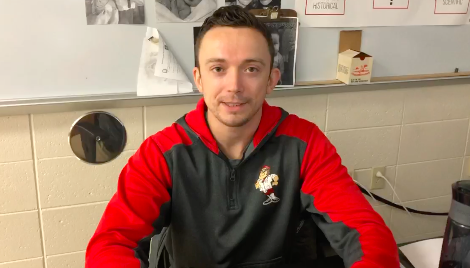 Riding around on his bike at six years old through the streets of Cimla, Neath, Wales, James Davies, science teacher, was told to be home before the street lights came on in his Welsh village between Cardiff and Swansea. Before moving to the United States in 2012, Davies lived, studied and worked in the United Kingdom.
Davies describes his childhood in Cimla as "free and awesome." "[Cimla] has a small town roots feel. Everyone knows everyone and not many people leave," Davies said.
After graduating high school at his local school, Davies attended Cardiff University where he studied biology. He did not originally plan on going into teaching, but his career path soon changed.
College ended, and Davies had to make a decision. He decided to use his biology degree to become a teacher, and he began training. However, there were not many jobs available in his area, so Davies had to go further to find work. Davies spent the summer searching for jobs, finding one in Essex, a city east of London in England.
"When I got the job there, it was known for having international teachers, coming from all over," Davies said. Teachers from English speaking countries like Ireland, the USA, Australia and South Africa. It was here that Davies met his wife. They lived and taught there for two years together until his wife decided it was time for her to return to the United States. "At that point we were super serious, so I was like 'well, I'll come with you'," Davies said.
His wife moved back in the summer or 2011 while Davies stayed in Essex until January of 2012. By then all his immigration paperwork had gone through and Davies could quit his job. On Jan. 19, 2012 he hopped on a one way flight to Las Vegas where his wife and her family lived. He married her the next day.
For six months they lived and worked in Las Vegas until his wife got a job in Waukesha, Wisc. Davies worked as a pharmacy tech at Walgreen's Pharmacy during that time. "After those two years we had our first baby and started looking for houses. In between that time I decided to go back into teaching," Davies said. It was at that time that Davies got his current position at Homestead teaching Anatomy and Biology.
Davies compares his high school experience to what he sees at Homestead. "School culture is not really a thing back home, the pep rallies, the sports. We would just go play on a field and hope it had some lines," Davies said. "Our coach was also our P.E teacher, who was also our bus driver," Davies said. He explains how laid back life was in Wales.
Davies ended by saying that if he were rich, he would live between Wales and the United States. However, he also explained how he loves living here and would deeply miss the United States if he were to go back.