Students share experiences working at the Mequon Public Market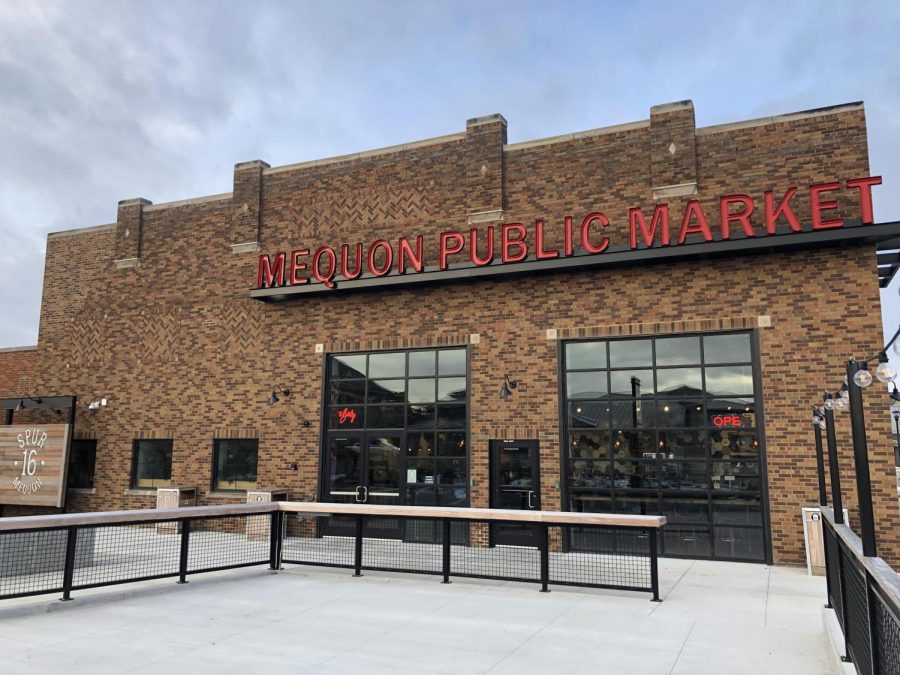 After years of planning, the Mequon Public Market at Spur 16 opened in late June 2019. The market features several restaurants and shops, many of which have other locations in downtown Milwaukee. Several Homestead students work at the vendors located in the market.
Josh Kloss, McKinley Davies, juniors, and Fitz Kubly, senior, are just a few of the Homestead students who work at the Mequon Public Market.
Kloss has worked at Anodyne Coffee since the market opened. The Anodyne Coffee Roasting Company started in 1999 and is locally owned in Milwaukee. "For my job, I have to take customers' orders and make drinks for them. There are also a lot of cleaning duties we have for each different day which is what we do when we don't have any customers to take care of," Kloss said.
Davies began working at Café Corazón at the beginning of July. Café Corazón was opened by George and Wendy Mireles in 2009 in Riverwest, a Milwaukee neighborhood. The Mireles were inspired by their time living in the San Francisco Bay Area and wanted to bring Latin cuisine to Milwaukee. "I am a dishwasher, so I mainly just make sure that all the dishes get clean and put back where they belong. I also do some of the cleaning tasks such as sweeping, sanitizing countertops, and food preparation if the business is slow," Davies said.
Kubly started working at Purple Door Ice Cream in September. Purple Door Ice Cream began as a wholesale business in 2011 before the first retail shop opened in Walker's Point in 2014. Kubly's responsibilities include scooping ice cream and making sundaes, banana splits, and rootbeer floats for customers. He also has to wash dishes, sweep, and mop before closing. "The location is very close to my home and it's my first job, so the responsibilities are not very intense. It doesn't require a lot of training either," Kubly said.
Like any job, working at the Mequon Public Market has its difficulties. "When the ice cream's fresh out of the freezer and a customer asks for it scooped, it takes a long time and it's hard on your arm," Kubly said.
For Kloss, the most difficult part about working at Anodyne Coffee was the training. "I had to train downtown to learn how to do espresso drinks because once the training is over you have to pass a test. But now that that's over, it is (typically) a stress-free environment," Kloss said.
At Café Corazón, Davies had to acclimate to working in a restaurant. "I always have to work with really hot items (not hot enough to burn you, but hot enough to be uncomfortable). That took some getting used to. I also only work weekend evening shifts, so I find it kind of hard to fit time in to hang out with friends," Davies said.
While work can be demanding at times, the communal environment at the market makes work more pleasurable. "I would definitely say that my coworkers really make work more enjoyable, and I have gotten the opportunity to get closer to some other Homestead kids that I otherwise would not have talked to," Davies said.
Furthermore, the customers add to the contentment of working at the market. "The most enjoyable part about working at Anodyne is being able to make drinks for other people. Sometimes it can be a lot, but it's a really cool skill to have. I also enjoy talking with some of the regulars that come in; many of them are super kind and are happy to see me," Kloss said.
As employees, Kloss, Davies, and Kubly are extremely familiar with their vendors' menus and have their own personal favorite items. At Café Corazón, Davies recommends the wet burrito with chicken, half green sauce, and half red sauce. She also suggests the Thai basil lemonade or the strawberry lemonade as a drink.
At Anodyne Coffee, Kloss recommends the iced bee sting with oat milk. "I like it since it gives you the caffeine, but it doesn't taste like super strong coffee," Kloss said.
For your sweet tooth, Kubly suggests the malted chocolate chunk flavor at Purple Door Ice Cream. "It's my absolute favorite and it's great for people who love chocolate but want to try something a little different," Kubly said.
For anyone looking for a job, the Mequon Public Market is a great place to work. With a diverse array of vendors, there is something for everyone. "The sense of community in the public market between employees of different vendors makes it great to work there," Kubly said.