Raskin awarded North Shore Conference gymnast of the year
While most teenagers head home after a long, tiring practice, Taylor Raskin, senior, heads to her second gymnastics practice of the night. Raskin was recently awarded North Shore's conference gymnast of the year on Feb. 22, which is given to one gymnast who has the highest combined scores from dual meets throughout the season. Individuals' scores are added up from the meets and whoever has the highest total score wins.
Raskin was pleased to see all her hard work pay off in this acknowledgment. "I am really honored to have received this award. I have worked extremely hard through adversity and injuries over the last several years to get to where I am now, and I am excited that my efforts have been recognized," Raskin said.
She is part of Homestead's gymnastics team as well as a club team outside of school and often finds her time being taken up by balancing the two. "My practice situation is unique from many athletes because I am competing in gymnastics for Homestead as well as a club at the same time. After school each day, I attend my high school practice and train my routines. Following Homestead practice, I go to a second practice at North Shore Academy of Gymnastics for a couple hours to practice with my club," Raskin said.
Gymnastics is far from new for Raskin, though, for she has been stretching and flipping for over a decade. "I started competitive club gymnastics when I was just 7 years old. Then I joined Homestead's team when I was a sophomore," Raskin said.
Raskin feels as if her senior season has been a success and that she has overcome many obstacles. "This season has been very meaningful because it is reflecting my hard work in the gym. After struggling with gymnastics-related injuries and comebacks for 5 years, I am having the successful season that I have worked toward for several years. It is a great way to end my time as a Homestead gymnast," Raskin said.
Teammates such as Annie Gebhardt, senior, have enjoyed spending time with Raskin the last few years on the team and witnessing her accomplishments. "Being Taylor's teammate and friend, I have watched her work hard to get to where she is now. Taylor has persevered through injury after injury and she has never let them stop her. I saw her determination last gymnastics season as she was recovering from a knee injury and that determination hasn't diminished. She has kept with it and this season all her dedication has paid off. I'm so proud of her and she has deserved every successful moment as well as the conference gymnast of the year," Gebhardt said.
Other people such as Homestead gymnastics head coach, Betsy Viegult, have also watched Raskin grow as an athlete and see her as worthy of winning this award. "Taylor's hard work, dedication, and love for the sport of gymnastics is present not only during our season at Homestead, but year round. She has strength, commitment, and always strives to do her best no matter what," Viegult said. She added how Raskin goes the extra mile to help her teammates as well. "Taylor has been successful in achieving her individual goals and this has assisted us as a team. She offers her knowledge and experience and gives advice to her teammates whenever possible," Viegult said.
View Comments (1)
About the Contributor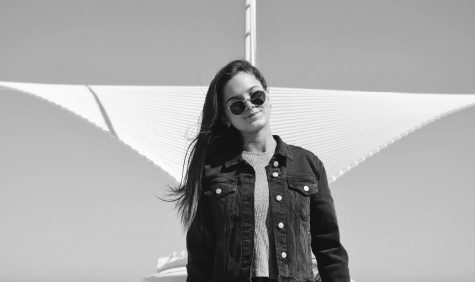 Annie McCormick, Editor in training
Annie McCormick is a Senior at Homestead High School. She ran cross country her first two years of high school and then switched to becoming more involved...