Homestead dance team goes virtual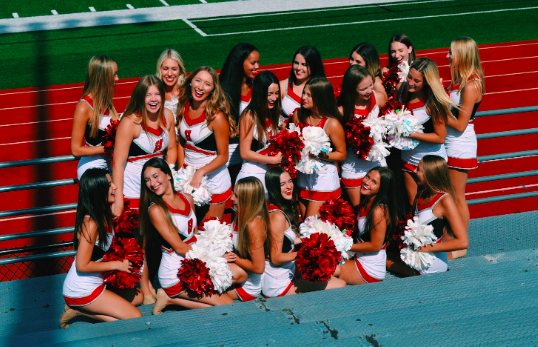 The COVID-19 pandemic forced the Homestead Dance Team to choose their new team virtually. The team's plans for the clinic and tryout had to be canceled.
Initially, the tryout clinic was supposed to be on April 5 at Oriole Lane Elementary School, followed by the tryout on April 25 and 26 at Homestead High School. Unfortunately, both of these events could not take place in person due to the stay-at-home order.
The clinic was then held through a Zoom meeting where the dancers had to find a space in their homes to pursue this task. "It went really well, and it was good to see everyone," Riley Kramer, junior, a returning team member, said.
After the Zoom clinic was held, the dancers had one week to prepare five different videos they needed to submit for the tryout. Considering families were stuck at home together, it made some videos hard to record, given the dancers did not have their own space. "It was pretty easy to record although it was hard to make my whole family stay out of the living room where I danced for a while," Kramer said.
New members of the team were challenged the most from this experience since this was the first time the coaches had ever seen them dance. In addition, they do not have any dance team experience at all. The clinic touched briefly on dance team technique. "It showed me the right pace that the team works at as well as gave a good overview of the technique and the new steps," Summer Rilling, freshman, said.
The varsity dance team was announced on April 29, which consists of 17 dancers. "We have a great foundation already built with the 14 returning team members and have three amazing freshmen joining our team; I think they will all work well together and make this an amazing season," Alex Lafferty, the dance team coach, said. Lafferty expressed how she is excited for this upcoming season though it will be a different experience due to these circumstances.
Lafferty has to take a new approach on how she will prepare the team for their season. "I plan on coaching mostly through Zoom. The seniors will take the lead and start pre-season conditioning and stretching with the team on Zoom, then I will take over with more dance content," Lafferty said. The team will for sure be different this year, but it will not stop the dancers from making it a successful season.