Working out extends beyond the gym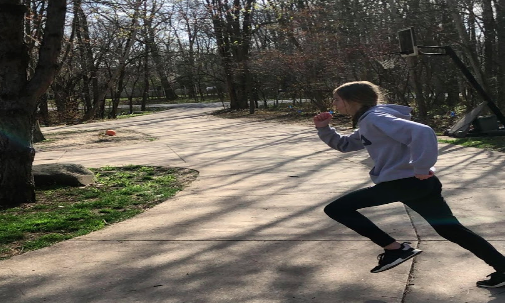 The Covid-19 outbreak has resulted in the shut down of many gyms that the Mequon community rely on. However, this does not limit the activity athletes can do at home with the resources they have available to them.
Students and staff involved in athletics are staying active by utilizing their resources at home. Students want to maintain a healthy status by getting the body moving and the heart racing. With extra time and encouragement from others, athletes are more driven to workout. "I work out so I can be fit like Ebert," Kelly Elliot, junior, said. Elliot and many more are staying active with the help of their peers. This encouragement has pushed Elliot to work out daily.
It can often be difficult for high school students to workout without distractions. However, Brady Lutz, junior, proved that it is very plausible to get in a good workout while staying committed. "I need to stay focused by turning off my phone so I don't receive constant messages that take my focus away from my workout," Lutz said.
Although students can achieve a great work out individually, teachers involved in athletics, including coaches and gym teachers, are helping students by providing additional resources and encouragement. The teachers are also cognizant of their time and make sure they too remain active. Coach Micah Adams, football coach, is encouraging his team to stay fit during this pandemic. "Our message to everyone has been to do something to work out, knowing that everyone's space and resources will be different," Coach Adams said.
Susan Godfrey, physical education teacher, has been ensuring that her students are keeping up with the plans she set out for them. Although they are not in the Homestead High School gym, she believes her students need to be getting in daily activity. "We are trying to give options for our workouts because everyone has different equipment-full gyms to almost nothing so I have been providing body weight workouts (ie yoga, HIIT, Tabata, hiking etc)," Godfrey said.
She and the other phy ed teachers are providing ample opportunities for students to stay active with limited resources. The Covid-19 pandemic has proved difficult for training athletes but doesn't have to limit their activity. Athletes are making use of the outdoors to enhance their workouts with encouragement from their fellow teachers and coaches.